aespa Shares TMI, Expose Unknown Facts On Their First Radio Appearance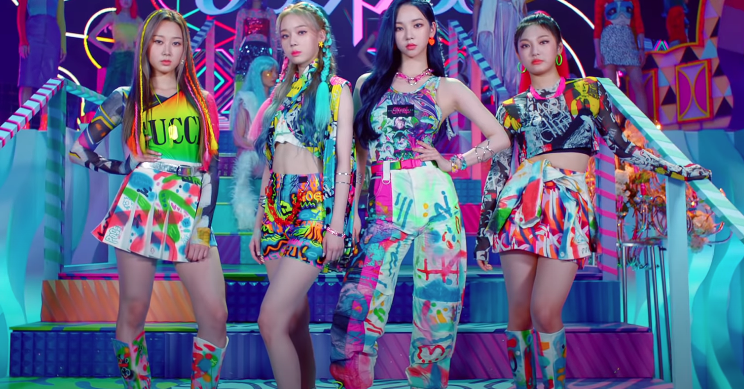 SM Entertainment's rookie girl group aespa recently had their first radio broadcast guesting, and they were able to show some unique charms and talked more about their debut concept.
On December 2, aespa was on "Kim Young Chul's Power FM" show. They revealed some unique facts about themselves, such as Karina's skill in picking things up with her feet. Ningning, who is from China, also said that while she has been in South Korea since 2016, it is still hard for her to speak Korean. Meanwhile, Giselle, who is from Japan, had an easier time as her mother is Korean.
The girls also opened up about their thoughts on their avatar counterparts, a concept that is very unique to their group. Giselle thinks of the avatars as their twins who live in an imaginary world.
The girls recently had a COVID-19 scare. News broke out this week that Bitto from UP10TION had tested positive for the virus. The problem was that his group had promoted in SNS's "Inkigayo" and MBS's "Show! Music Core" where the girls also promoted their debut single "Black Mamba". They readily underwent the swab test and SM later confirmed on December 1 that all members of aespa and NCT, their co-label artist that also went on the show, plus all the staff working with them all tested negative for COVID-19. The girls could resume their activities.
South Korea has seen an increased surge in its daily coronavirus cases. They were already able to stop most of the spread, only getting less than 100 cases a day. But recent statistics show more than 500 positive cases in the past days, leading to stricter measures.
The entertainment world has not been spared from the latest wave. After Bitto and co-member, Kogyeol tested positive for the virus, Everglow members Yiren and Sihyeon were also reported to have COVID-19. As they filmed an episode of "Yoo Hee Yeol Sketchbook" before testing, other artists who were guests on the same day proceeded to get tested too.
© 2021 Korea Portal, All rights reserved. Do not reproduce without permission.