BTS V, Jungkook, Jimin, Suga, Jin, RM, J-Hope Have Proved Once Again That They Are A Global Phenomenon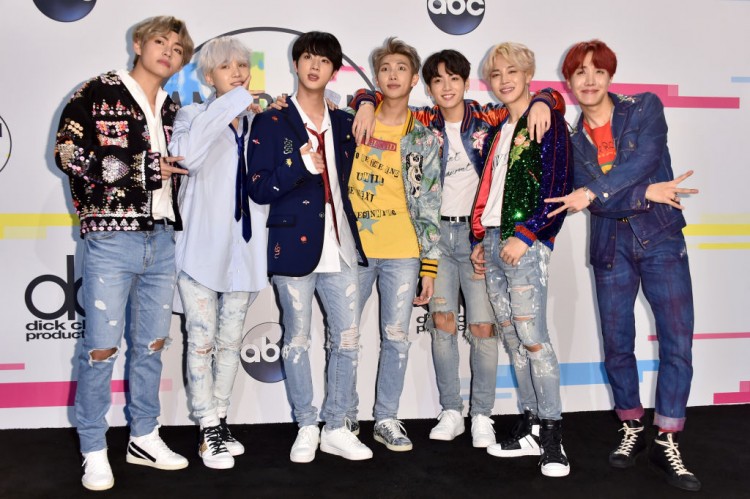 BTS is, undeniably, one of the most talked-about K-pop acts right now. V, Jungkook, Jimin, Suga, Jin, RM, and J-Hope just released their second album this year on Nov. 20. As expected, the Bangtan Boys are dominating the charts, social media, and music streaming sites again.
Recently, BTS reached another milestone as they are named as the only Asian performers who dominated Spotify charts in 19 countries outside Asia. Their hit single "Dynamite" is frequently played in countries like Australia, Belgium, Colombia, Germany, Ireland, Netherlands, Romania, South Africa, Ukraine, and the United States.
The same song topped the Spotify charts in Austria, Canada, Ecuador, Hungary, Italy, Norway, Peru, Switzerland, and the United Kingdom. BTS' albums "MAP OF THE SOUL: 7" and "Love Yourself: Answer" also ranked 22nd and 28th in the Top Albums Global list.
On Wednesday, BTS dropped another version of their "Life Goes On" music video on YouTube. This time, V, Jungkook, Jimin, Suga, Jin, RM, and J-Hope are seen together in the forest. The clip garnered almost 5 million views 24 hours after it was uploaded on the popular video streaming site.
Avid followers of the Bangtan Boys were quick to express their delight and shock with the second "Life Goes On" video. "Wow!!! I can't even imagine how many people will become Armys after seeing this masterpiece. This is why everyone loves them!" David Juan wrote in the comment section. "The melody of this song is too precious, it's like it's the queen of the king spring day together with their daughter stay gold," Isa Bela wrote. "I AM SO SHOCKED, LET'S GUESS THERE'S ANY VERSION AFTER THIS?? On my table? On my car? In the car? In the stadium? In the dorm? In the blue sky? Ayo apa lagii," Primadita Rachmawati shared.
Due to the song's catchy melody, numerous fans and artists have recorded their own version of "Life Goes On," including Hollywood singer Alicia Keys. The Voice judge shared a mini cover video of her while sitting in front of her piano on Twitter. The clip has garnered 386,700 likes and has 115,300 comments six hours since it was uploaded.
BTS has yet to respond to Alicia Keys' surprise. Stay tuned to Korea Portal for the latest news and updates about V, Jungkook, Jimin, Suga, Jin, RM, and J-Hope!
© 2021 Korea Portal, All rights reserved. Do not reproduce without permission.