Girls' Generation's YoonA Tries To Escape Hazardous City In Upcoming Movie 'Exit' With Actor Jo Jung Suk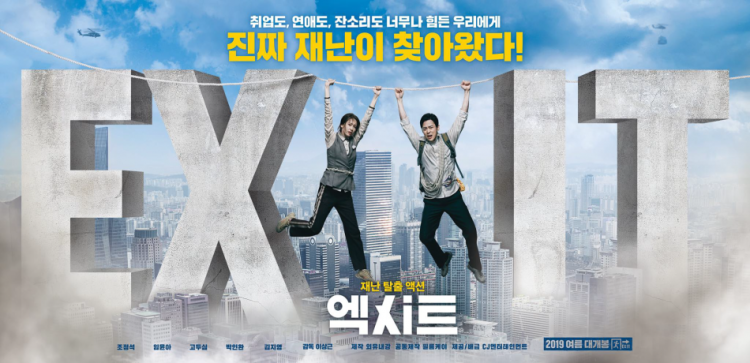 Girls' Generation YoonA in an action comedy film is something that fans have been waiting for. Korean movie Exit has dropped its first trailer and another poster and it both feature its lead stars YoonA and actor Jo Jung Suk.
Exit follows the lives of unemployed Yong Nam (Jo Jung Suk) and his college club junior Eui Joo (YoonA). The two graduated from the same university. Their path crosses again but their reunion gets interrupted by a disaster. They need to work together to escape a city that has been attacked by an unknown poisonous gas.
The new poster has a tagline "If you want to live, run!" which teases the action that viewers should expect in the movie. The promo material also showed the two characters desperately asking for help. It looks like Yong Nam and Eui Joo improvise a hazmat using trash bags to protect themselves from the harmful gas that could kill them within minutes.
If the poster suggests an action- and laughter-filled movie, so as its trailer. The teaser trailer for Exit that dropped on Monday shows Yong Nam's nagging about his unemployment. She talks about being ashamed to introduce Yong Nam to any potential blind dates because he is jobless.
Then Yong Nam bumped into his fellow rock-climbing club member Eui Joo during the 70th birthday party of his mother in a hotel where the latter works as staff at the banquet hall. The supposed to be joyful event turns into a disaster when a mysterious toxic gas starts to spread throughout the city.
The former schoolmates will use their rock-climbing skills to save everyone at the party. YoonA and Jo are seen in the trailer climbing skyscrapers and jumping from one building rooftop to another to survive. CJ Entertainment has yet to announced a premiere date for Exit but it is expected to hit theaters this summer.
Jo Jung Suk rose to fame in the 2012 box office movie Architecture 101. He was last seen in the movie Hit-and-Run Squad and K-drama Familiar Wife which were both released last year. He also appeared in several K-dramas including The King 2 Hearts, You're the Best, Lee Soon-shin, and Oh My Ghost.
As for YoonA, Exit is her comeback movie following the action-thriller film Confidential Assignment in 2017. She also appeared in a lead role in the K-drama The King In Love last year. Among her other notable TV series are You Are My Destiny, Love Rain, Prime Minister and I, and The K2.
© 2021 Korea Portal, All rights reserved. Do not reproduce without permission.