'Outlander' Actress Caitriona Balfe Shuts Down Pregnancy Rumors; Sam Heughan Says Jamie Will Become More Mature In Season 5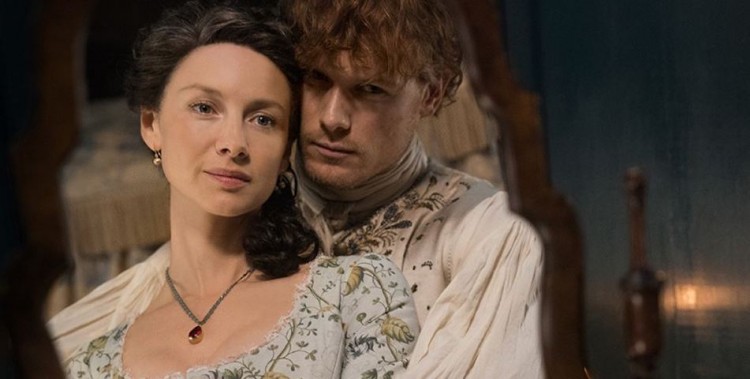 Fans will not be seeing pregnant Caitriona Balfe in Outlander Season 5 or even in real life anytime soon. The actress has shut down rumors that she is expecting a child. Meanwhile, co-star Sam Heughan has shared some tidbits on what to expect in the upcoming fifth season of Outlander.
Balfe has boldly answered some fans query if she is pregnant. On Twitter, the actress dismissed the rumors, saying she just look bloated because of her monthly cycle.
"To all those who think it's appropriate to ask. No, I'm not pregnant, just having my period and was bloated.... so yeah... thanks for asking," the 39-year-old star tweeted along with hashtags #notreally and #notallstomachsarewashboards.
The speculation started after Balfe was photographed wearing a floral green dress along with the cast Outlander during the Starz Emmy For Your Consideration event in L.A. recently. Balfe's dress featured a V-shaped panel of fabric that is outlined by sequins running down her midriff. In one of her photos with Heughan and Power actor-producer 50cent, Balfe seems to show a small bump on her belly area.
From there, some started to speculate that Balfe could be pregnant which she already dismissed. The Ford v Ferrari actress is currently engaged to her longtime boyfriend Tony McGill.
Meanwhile, Heughan has teased that his Outlander character, Jamie Fraser, will be more mature in the upcoming season. The actor told Parade.com that Jamie will face tougher responsibilities this season more than ever. Aside from taking care of his growing family, he will also be looking after the welfare of his tenants at the Fraser's Ridge.
Heughan added that Jamie will continue to be on the side of the British Redcoats for the sake of his family and everyone at the Fraser's Ridge. The actor said the choice it will be hard for Jamie especially he and Claire know who will end as the victor in the American Revolution.
Outlander Season 5 is currently filming in Scotland. Starz has yet to reveal a premiere date for the fifth installment but it is expected to be sometime in fall.
Aside from Outlander, fans of Balfe and Heughan could also watch the two on the big screen. Caitriona Balfe's Ford v Ferrari movie alongside Matt Damon and Christian Bale is set to be released in November 2019.
Sam Heughan, on the other hand, will appear in Vin Diesel's movie, Bloodshot. It has a premiere date in February 2020.
© 2023 Korea Portal, All rights reserved. Do not reproduce without permission.