BTS Jin's New Solo Song 'Tonight' Breaks Jimin's Record + NASA Adds 3 BTS Songs On Its Moon Journey Playlist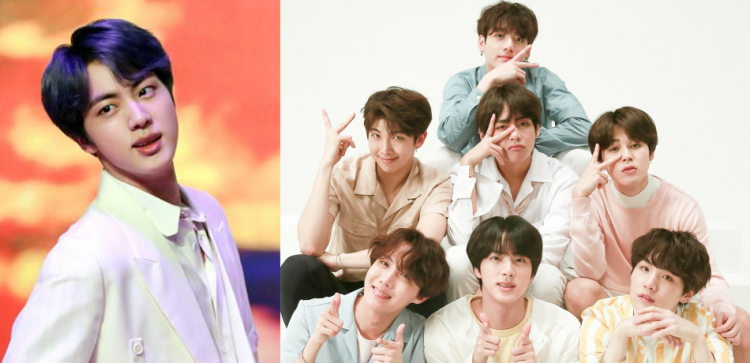 BTS member Jin has released a new solo song as part of the band's sixth-year anniversary. Meanwhile, the National Aeronautics and Space Administration has already included three songs of the K-pop group on its playlist for the new voyage to the moon.
Jin has dropped his new solo song, titled "Tonight," as part of the 2019 BTS FESTA. The release of the song is among the list of highlights for the event. The special track was produced by Jin, his bandmate RM, Slow Rabbit, and Hiss Noise.
So far, it has broken the record set by fellow BTS member Jimin on Soundcloud. Jin's "Tonight" has garnered 1 million listeners in just 30 minutes, beating Jimin's record of 35 minutes. The track has a record of over four million as of writing.
Several hashtags related to Jin's latest song has been trending worldwide on Twitter since. Among those on top of the list are #TonighByJin and #ThisNightByJin.
According to Jin, the ballad song is about his love for his pets. BTS ARMYs have known that the eldest member of the group has a sugar glider pet that died late last year.
Fans are grateful for the new song from the group. Jin also promised to their fans that he will work hard to make more songs in the future.
Meanwhile, NASA has confirmed that three songs of BTS that have been included in the playlist of the new voyage to the moon that the agency is preparing for 2024. On Monday, NASA launched the #NASAMoonTunes project in celebration of the 50th anniversary of Apollo 11.
It also posted an invite to the public to submit song titles that they want to add to the playlist. BTS ARMYs quickly shared the group's songs that they think should be part of the monumental event.
The BTS tracks that were chosen by NASA are "Mikrokosmos," "134340", and "Moonchild" from RM's recent mixtape. RM's song "Moonchild" is about the "moon child" who embraces his flaws while blossoming in the moonlight.
"Mikrokosmos" is from BTS latest album Map of the Soul: Persona. It refers to the human world being part of a larger universe. Finally, "14340" is the asteroid number assigned to Pluto. The song lyrics figuratively refers to somebody who has been cast away like Pluto when it loses its planetary status.
© 2023 Korea Portal, All rights reserved. Do not reproduce without permission.