BTS's Jin Turns 'Music Bank' Into Fashion Runway; 'Love Yourself: Answer' Outfit Explained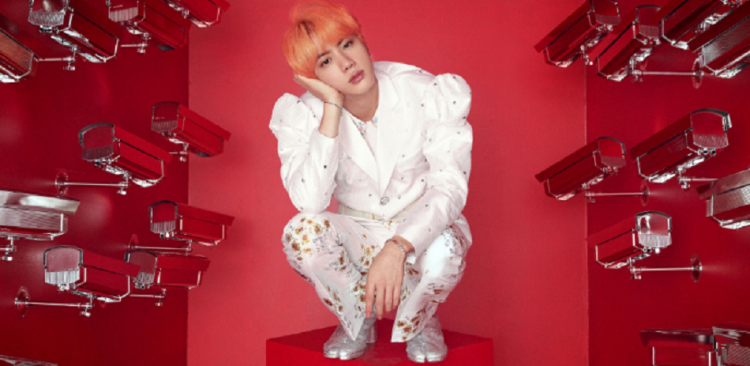 BTS members have been known as one of the leading fashion icons in Korea and in Asia today. They have created stunning concept photos and music video for their albums using unique and sometimes out of this world outfit. But once in a while, they are also caught in an eye-catching outfit even on an ordinary day.
Just recently, BTS member Jin surprised fans when he arrived at Music Bank's rehearsal in an outfit that he is never expected to be wearing on that day. It was a familiar outfit as many have seen it in the BTS's concept photos for their latest album Love Yourself: Answer. While his bandmates are in their casual jeans and shirt, Jin is photographed wearing the same outfit he wore in the concept photo.
Every week, the KBS variety show took photos of the artists as they arrive to perform in the show. Most of them arrive in their most comfortable clothes although there are some who wear memorable outfits as a special treat to their fans. It looks like Jin is on that same mood.
BTS members arrived at KBS Hall in their casual wear except for Jin. All eyes were on Jin as he stepped out of the band's vehicle in his retro-style white suit with gold flower and rhinestones designs. He compliments the suit with a pair of silver boots. It was the same outfit he wore in the Love Yourself: Answer photo concept.
BTS is known for making fun of a member who loses in their game. Back in 2017, Jin lost a game hence he wore a traditional outfit to the airport. This time around, many are wondering if Jin lost another game again. It turns out that Jin did not but rather it was his own idea to wear the white suit.
"Jin wore that outfit as part of his personal surprise event for fans," a source from Big Hit Entertainment told Star News (via Soompi). Check out a clip below of BTS's arrival at KBS compound.
BTS released their new album Love Yourself: Answer on August 24 along with its lead track "IDOL." They appeared in several music shows in South Korea before heading to the U.S. leg of their Love Yourself world tour. The Bangtan Boys took the Music Core stage on September 1 and Inkigayo on September 2.
In other BTS's Jin news, some netizens speculate that the K-pop idol is currently dating fellow idol-LABOUM member Solbin. The dating rumor started when BTS and LABOUM recorded an episode for Mnet's M! Countdown.
Solbin was first accused of accused of disrespecting Jin by acting casually towards her sunbae. Apparently, the two looks comfortable talking with each other and this makes some think that they could possible dating.
Then they were also backstage photos of the K-pop bands in which some netizens also noticed the similarities between Jin and Solbin's hand gesture. Some fans dismissed the rumor, saying it is the pettiest evidence that Jin and Solbin are dating.
Im actually crying Rn! Their all dress casually and then we have JIN THE EXTRA BITCH #musicbank #BTS pic.twitter.com/dqbD3POHC1 — #LittleEuphoriaDay (@jungoovideos) August 30, 2018
© 2023 Korea Portal, All rights reserved. Do not reproduce without permission.