BTS's ARMY Slams Baseball Fans Who Left Racist Comments About Suga Attending LA Dodgers Game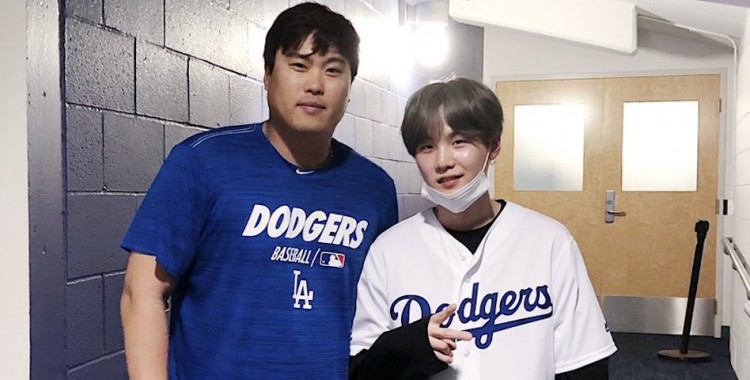 The BTS fans did not let it pass and slammed the baseball fans who left negative comments about Suga attending the LA Dodgers game. Many opted to educate the sports fans about who Suga is and what BTS is all about.
After the successful two-night concert at the Rose Bowl Stadium in Los Angeles, California, some of BTS members took their rest days by attending several events in LA. Jungkook was spotted at Ariana Grande's concert while Suga showed support to fellow Korean, Dodgers pitcher Ryu Hyun Jin.
Suga attended the Dodgers' game against Atlanta Braves at the Dodger Stadium in Los Angeles on Tuesday. Dodgers won the game with an impressive 9-0 score. BTS Suga shared on Twitter a photo of him and Ryu at the ballpark.
The LA Dodgers also uploaded a short clip of the meeting. Ryu is awed to the fact that a big star such as Suga attended the game. But Suga humbly disagrees and said that he is glad to see Ryu pitches a shutout.
Dodger also posted a video of Suga showing off the Ryu jersey he is wearing while watching the game. ESPN, on the other hand, shared a couple of Suga's photos attending the game.
The BTS's ARMYs were delighted to see Suga enjoying the game. They also showed that they got the singer's back when they slammed the baseball fans who filled ESPN's thread with racist and xenophobic comments.
"Americans don't like that crap, except pre-teen girls," one wrote while another said, "Never heard of her."
In return, ARMYs flooded the threat with messages about Suga and the "Idol" singers. But instead of posting equally insulting messages, some choose to enlightened netizens about BTS and K-pop as a whole. Some also mentioned that they are huge fans of Major League Baseball themselves but they are also attending concerts of BTS.
"Yes, the Grammy Nominated group and the winners of the Billboard Music Award for Top Group!!!!! Any of my fellow baseball fans who don't like them should check them out, they're the REAL DEAL!!!," one wrote.
"To all Sports fans who don't care much for music artists, it's okay. Most of us wouldn't know baseball players' names either. But be respectful. BTS is a Grammy-nominated South Korean band with humble beginnings. They worked their way up and fans are happy to see them here," another fan wrote.
Meanwhile, BTS is heading to Chicago for the next stop of their Love Yourself: Speak Yourself world tour. The event will be another two-night performance at the Soldier Field on May 11 and 12.
A complete-game shutout and a three-homer game? We're going to need you back at the stadium again soon, @BTS_twt! pic.twitter.com/SB2EiMR3pe — Los Angeles Dodgers (@Dodgers) May 8, 2019
© 2019 Korea Portal, All rights reserved. Do not reproduce without permission.