Kiefer Sutherland's 'Designated Survivor' Season 3 To Premiere In June At Netflix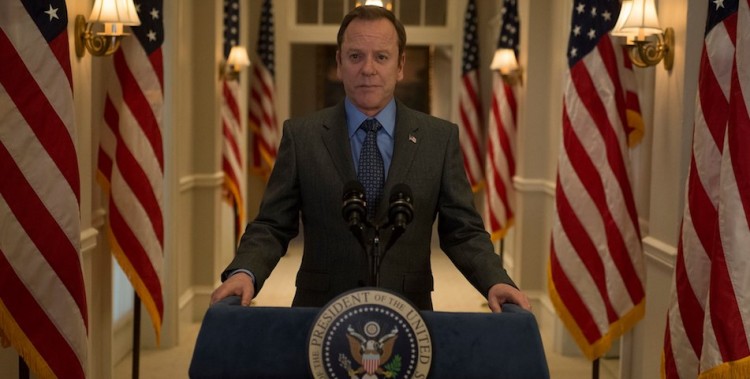 President Tom Kirkman is coming back but this time around in a different home. Netflix has finally announced a premiere date for Designated Survivor Season 3.
Lead actor Kiefer Sutherland and the rest of the cast of the former ABC drama will return for another season on June 7. Back in May 2018, ABC decided to pull the plug on the political thriller drama. Four months later, Netflix picked up the show.
In the upcoming Designated Survivor Season 3, Kirkman (Kiefer Sutherland) will be facing a new challenge on his presidency: to keep the post through the election. It can be recalled that Kirkman did not ascend into his position as the United States President because the people choose him. It was all because of a terror attack.
Low-level Cabinet member Tom Kirkman rose to the highest post in the land after a terror attack during the State of the Union that killed the President and everyone in the line of succession except him. From then on, Kirkman faced the task of rebuilding the government and stabilizing the country while keeping his family from falling apart.
Apparently, Season 3 will explore the world of campaigning which includes smear tactics, "fake news," debates, and campaign finances. In Netflix's quick recap of Season 1 and 2, Sutherland teased whether or not Kirkman can remain a good man while in the world of politics.
"Season 3 will be his greatest test so far," he added. Watch the entire recap below.
Aside from Sutherland, other cast members from the previous installments that are confirmed to reprise their respective roles are Adan Canto, Italia Ricci, Maggie Q, and Kal Penn. Joining the cast this season are Anthony Edwards, Julie White, Elena Tovar, and Ben Watson.
Edwards will play the role of Mars Harper, President Kirkman's chief of staff who has served many administrations in different capacities. White will play campaign manager Lorraine Zimmer, Watson will be West Wing's new Digital Officer Dontae Evans, and Tovar as Isabel Pardo, the White House's director of social innovation.
Designated Survivor will also have a new showrunner, Law & Order: SVU's Neal Baer. He will serve as EP along with series creator David Guggenheim, Mark Gordon, Sutherland, Suzan Bymel, Simon Kinberg, Aditya Sood, and Peter Noah.
Designated Survivor Season 3 will start streaming via Netflix on June 7. However, instead of the usual over 20 episodes, Season 3 will only have 10 episodes.
We have an important message from the President. Season 3 of Designated Survivor hits @Netflix on June 7. Get caught up with @realkiefer now. pic.twitter.com/H71uQ4IA5f — Designated Survivor (@DesignatedNFLX) April 24, 2019
© 2021 Korea Portal, All rights reserved. Do not reproduce without permission.