Harry Styles Attends BLACKPINK's Concert; Sparks Dating Rumor After Following Jennie On Instagram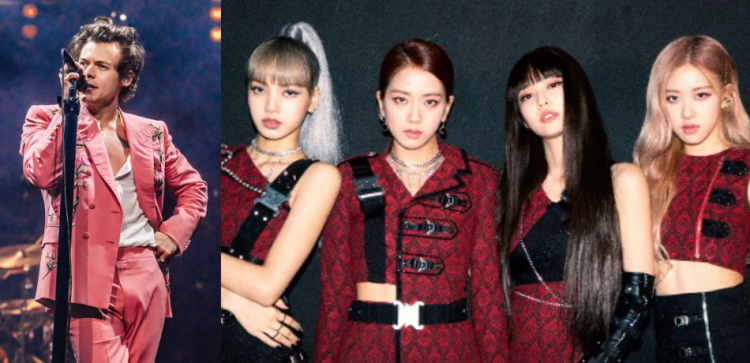 Harry Styles is keeping a low-profile lately until he was spotted attending BLACKPINK's concert in the Forum in Los Angeles this week. His attendance further sparked dating rumors as the One Direction member also followed BLACKPINK member Jennie on Instagram.
The English singer inadvertently took the spotlight from BLACKPINK when some concertgoers can't help it but took their eyes away from the stage to catch a glimpse of Styles. The singer was photographed wearing a gray beanie and sitting in the VIP section of the Forum. Photos and videos of the "Sign of the Times" singer enjoying the concert were shared on social media sites and quickly went viral.
Many think Styles is a silent fan of K-pop while BLINKs are hoping for a collaboration between the 1D member and the "Kill This Love" hitmakers. Some speculate that Styles could possibly be checking on BLACKPINK's performance as he is considering a collab with the K-pop group.
Styles and 1D fans have been eager to hear new music from the singer. It has been almost two years since Styles released his self-titled debut album.
Meanwhile, many K-pop fans are impressed with Jennie's charm. Others speculate about a blooming romance between the Korean singer and Styles after it was revealed that the latter followed Jennie on Instagram.
"Harry Styles went from following Jennie on Instagram to actually going to their concert, if we get a picture of them I'm afraid I might not make it," a fan commented.
It's unclear whether or not Styles actually met with the quartet. However, the female K-pop group shared a snap with DJ Snake backstage after the show. The French DJ and record producer took a picture with the four members of BLACKPINK and shared it on Twitter.
Meanwhile, BLACKPINK is set to return on the Coachella Festival stage on April 19. Fans are already excited to see the interaction between Coachella 2019 headliner Ariana Grande and the "Ddu-du Ddu-du" singers. Grande earlier said that BLACKPINK is among her watchlist at the festival.
BLACKPINK is currently promoting their latest EP, Kill This Love, which was released last month. Jisoo, Jennie, Rosé, and Lisa will head next to Illinois for the continuation of their In Your Area world tour at the Allstate Arena on April 24. Also included in the group's tour stops in North America are Newark, Atlanta, and Fort Worth in the U.S. and Hamilton in Canada.
© 2023 Korea Portal, All rights reserved. Do not reproduce without permission.