K-Drama 'Asadal Chronicles' Drops First Promo Photos Featuring Lead Actor Song Joong Ki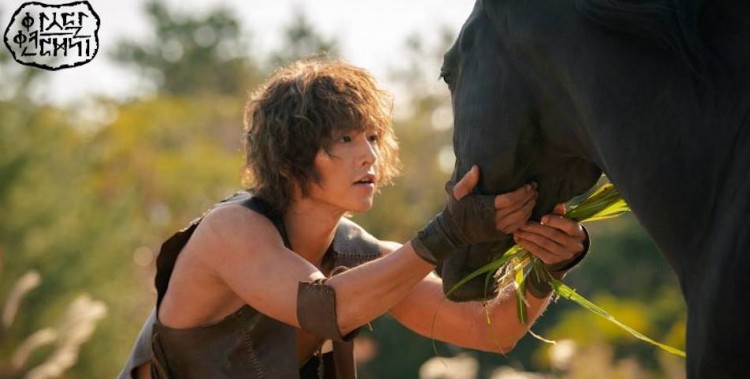 Korean broadcasting network tvN has released the first set of promo photos for the highly-anticipated K-drama Asadal Chronicles. All of the photos that have dropped feature lead actor Song Joong Ki.
In the photos, Song Joong Ki is seen in a long, messy hair and his bulky physique is clearly showing off in his leather clothing. It looks like he is hunting something as he is seen with markings on his face in one of the photos.
Asadal Chronicles is a period drama that is set in the mythical city of Asadal, the capital of Gojoseon. Song Joong Ki plays the role of Eun Seom, who is a cursed child born in Blue Stone Village. He, however, will later become the conqueror of Asdal, taking it from city-state to empire. This is Song comeback TV drama after the success of Descendants of The Sun in 2016 and subsequently, his marriage to his co-star Song Hye Kyo.
The production staff noted how much Song is so in sync with his character. They said that viewers will definitely think of Eun Seom and not the actor Song Joong Ki when they watch Asadal Chronicles. Writers Kim Young Hyun and Park Sang Yeon described Eun Seom as someone who has an innocent face but could fight back if he needs to.
"The most important role that Song Joong Ki must fulfill is showing a naive face with basic instinctual reactions while asking basic instinctual questions," Soompi quoted the writers as saying.
tvN earlier released the first official teaser of the series. Aside from Song, it also featured the other characters in the K-drama such as Kim Ji Won and Jang Dong Dun.
Song's DOTS co-star Kim Ji Won plays the role of Tan Ya, a woman born under a cursed sign like Eum Seom. She will overcome hardships to become the first female politician of Asadal. She is Eun Seom's first love and also the woman Ta Gon loves.
Suits actor Jang Dong Gun portrays the war hero character, Ta Gon. He is ambitious and aims to become the first King of Asdal.
The trailer and promo photos of the K-drama were released amidst the recent complaint of its production staff of poor working condition. Apparently, the staff has been suffering from long working hours, even up to 20 hours when they film overseas.
The production of Asadal Chronicles is reportedly cost 400 billion won ($352 million). The series began filming at the end of last year. The production team also shoot some scenes in Brunei.
Asadal Chronicles is set to air in June on Saturday and Sunday timeslot. It will take the Saturday and Sunday timeslot of Confession.
© 2023 Korea Portal, All rights reserved. Do not reproduce without permission.