BTS Reveals Collaboration With Ed Sheeran + 'Map Of The Soul: Persona' Surpasses 3 Million Pre-Order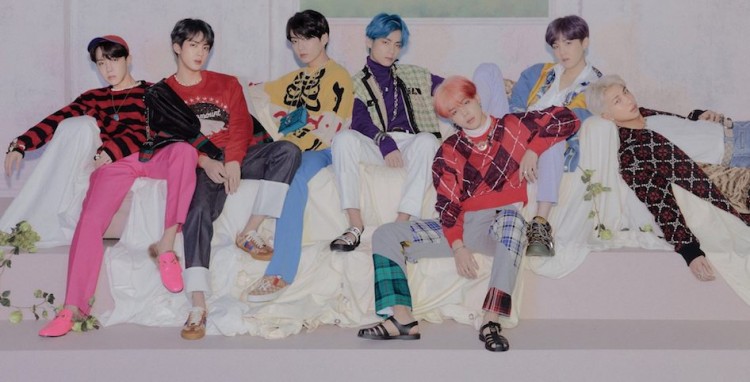 If dropping a new album is not enough, BTS has more surprises to their ARMY. Their brand new album, Map of the Soul: Persona contains a collaboration with Ed Sheeran. Meanwhile, the pre-order sale for the EP has already surpassed the three million mark ahead of its official release on April 12.
Big Hit Entertainment has released more details about Map of the Soul: Persona on the day of its official release. The album has seven tracks and one of which is a collab with English singer Ed Sheeran.
The fourth track, titled "Make It Right," was co-produced and co-written by the "Perfect" singer. The song is about the process of healing and love for someone who has believed in you since your rough beginnings.
Sheeran first revealed that he wrote a song for BTS in an interview with Heat back in November 2018. Then less than a month later, BTS member Suga teased a collaboration with Sheeran when he shared on Twitter a photo of a music composition sample.
The rapper/songwriter titled the sample track as "ED SHEERAN ST ROUGH." The "ST" could mean "suggested title" since the song talked about someone rough past.
Meanwhile, the lead track of Map of the Soul: Persona is "Boy With Luv" and features American singer Halsey. It has a funk-pop vibe that tells that happiness is the simplest form of love.
This marks the first time BTS has a title song in an album that features another artist. BTS's most recent album Love Yourself: Answer title song, "IDOL", has two versions. The original version only has BTS and the other one features Nicki Minaj.
The other tracks in the album are RM's solo, "Intro: Persona," which seeks to answer the question "Who am I?" "Mikrokosmos" is an examination of one person's small but vast universe. "HOME" is a message from BTS that says when they're tired and lonely, the home they want to return to is where their fans are.
"Jamais Vu" is a unit track with BTS members J-Hope, Jin, and Jungkook. Rounding up the new album is "Dionysus," which is a hip-hop track.
Meanwhile, BTS's distributor Dreamus Company has announced that the pre-order sale of the album has already surpassed three million. It's a new record for BTS who previously held the record of over 1.5 million pre-orders. The album will be available starting on April 12 at 6 p.m. KST. BTS is set to make a comeback stage on Saturday Night Live on April 13 at 11:30 PM EST on NBC.
© 2019 Korea Portal, All rights reserved. Do not reproduce without permission.