K-Drama 'Her Private Life' Promo Photos Tease Kim Jae Wook's Character Dislike For Sasaeng Fans + Park Min Young's Character Family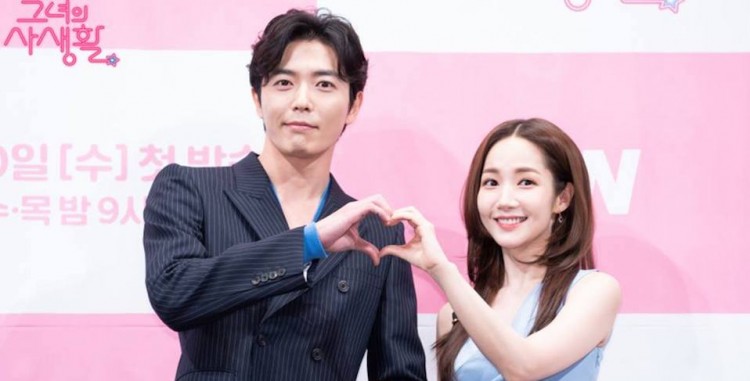 Upcoming K-drama Her Private Life has dropped a bunch of promo photos and it gave a glimpse on hilarious the tvN rom-com could be once it premieres this week. One of the photos showed lead character Ryan Gold annoyance when he sees a sasaeng fan while more images feature the unique hobbies of Sung Duk Mi's parents.
In the recently released promo photos, Ryan Gold (Kim Jae Wook) looking irritated when he spotted Cindy (Kim Bo Ra) secretly taking pictures of Cha Si An (rapper ONE), a member of idol group White Ocean, while on board an airplane. The K-pop idol is fully immersed on browsing his tablet while seated in an airplane cabin while Cindy sneakily taking pictures of him from another cabin seat. Ryan Gold gets distracted by Cindy's behavior and shoots her with an intense gaze.
Her Private Life also released photos of Duk Mi's (Park Min Young) family. The Heirs actress Kim Mi Kyung plays the role of Duk Mi's mother, Ko Young Sook, who loves knitting. Live Up to Your Name, Dr. Heo actor Maeng Sang Hoon, on the other hand, portrays Duk Mi's father, Sung Geun Ho, who collects ornamental rocks. The images show that being a fan of someone or something runs in Duk Mi's family.
One of the photos shows the family matriarch is comfortably knitting in their living room that has a variety of knitted items such as table cloth, drink coaster, seat cover, and more. Kim Mi Kyung is also seen nagging at her daughter while knitting.
Her Private Life is a reunion project for Park Min Young and Kim Mi Kyung. The two worked together in the 2014 action thriller K-drama Healer.
Meanwhile, Maeng Sang Hoon is seen carefully cleaning his ornamental rocks at the corner of their veranda. Some of his previous rocks are seen on display in a glass case.
Her Private Life is about an art gallery curator Sung Duk Mi (Park Min Young) and her ill-tempered boss, Ryan Gold (Kim Jae Wook). Duk Mi lives a secret life as a dedicated idol fangirl while her boss is a genius artist turned gallery director who is solely focused on his career and doesn't show concern to others. He will eventually end up falling for her and finds himself into the world of fanboying.
Her Private Life is slated to premiere on April 10 at 9:30 p.m. KST on tvN. It will take the Wednesday and Thursday time slot of Touch Your Heart.
© 2020 Korea Portal, All rights reserved. Do not reproduce without permission.