BTS's ARMY Feels Nostalgic With K-Pop Group's New Album 'Map Of The Soul: Persona' Comeback Trailer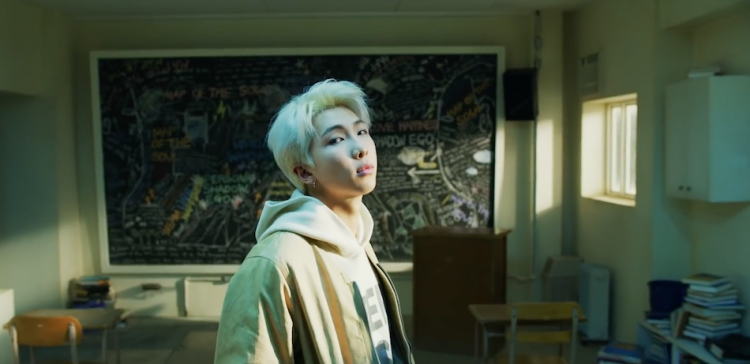 BTS has dropped the comeback teaser for their upcoming album Map of the Soul: Persona. Like the group's other music video, the clip is once again filled with tons of symbolism and references. But what makes the teaser more interesting, particularly to BTS fans, is the striking references to the group's past.
BTS has released the music video for the track "Persona." The MV showcased the group's leader RM, whose real name is Kim Namjoon. It has been the tradition of the chart-topping K-pop group to kick off the album with a solo trailer of a member. This means "Persona" will also serve as the intro track in the upcoming album.
Many BTS ARMY felt nostalgic of the video as it made references to some of the group important events since debut in 2013. For instance, the opening of "Persona" MV paid homage to Skool Luv Affair comeback trailer in 2014. The animated graphics in both trailers are very similar.
"Persona" also showcased a classroom, a chalkboard, and students desks. These are all similar with the trailer of BTS's debut single "No More Dream" in 2013 as well as in 2014 music video for "Boy in Luv."
Additionally, the "Persona" lyrics reminded the fans about RM's speech at the United Nations back in September 2018. An animated giant RM is also seen in the video just like the larger than life images of the members in the "IDOL" MV.
Meanwhile, the words "Persona," "Shadow," and "Ego" are clearly written in the chalkboard. These are the three elements of Swiss psychiatrist Carl Jung's psychology theory. Jung's thoughts were described in the 1998 book of Murray Stein titled Jung's Map of the Soul: An Introduction.
The words "Dream," "Love," and "Happiness" are also written on top of the "Persona," "Shadow," and "Ego." These drew some fan theories about the band's future. Many believe that the three words on top would be the album or song titles in the band's next releases.
BTS is set to wrap up the Love Yourself tour with the final concert in Thailand on April 7 before unveiling a brand new era. BTS new album Map of the Soul: Persona will drop on April 12. It will be followed by the group's first ever appearance at Saturday Night Live on April 13.
BTS will also kick off their Speak Yourself world tour on May 4 in Rose Bowl Stadium in California. Jin, Suga, J-Hope, RM, Jimin, V, and Jung Kook will be hitting several stadiums around the world including the legendary Wembley Stadium in London.
© 2019 Korea Portal, All rights reserved. Do not reproduce without permission.