'He Is Psychometric' Episode 5 Spoilers: Serial Killer Strikes Again; Prosecutor Kang Sung Mo Asks Favor To Jae In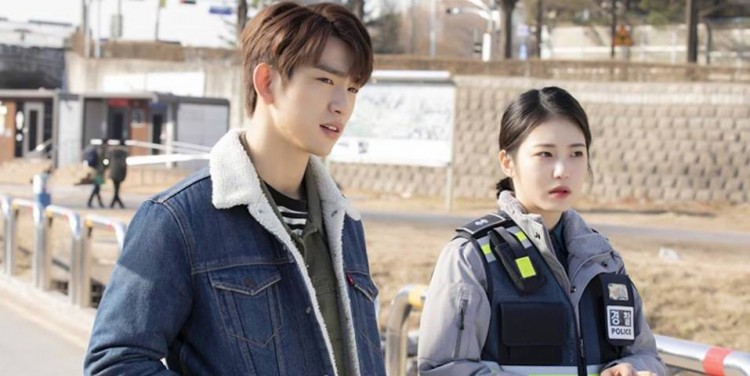 The serial killer who already murdered two women and tucked them in suitcases will strike again in the upcoming He Is Psychometric Episode 5. Meanwhile, prosecutor Kang Sung Mo will ask something to Jae In but the latter will beg to give her more time to think about it.
In the previous episode of the K-drama, Lee Ahn (GOT7 member Jin Young) and Jae In (Shin Ye Eun) had found a suitcase floating in a river with a dead woman inside it because of the former psychometric ability. Detective Eun Ji Soo (Kim Da Som) believe that there is a serial killer on the loose after Jae In told them that there was another dead body of a woman found inside a black suitcase a few months ago.
In the teaser for the upcoming episode, a man is seen dragging a black suitcase possible with another dead body inside. Meanwhile, the identity of the woman in the suitcase that Lee Ahn and Jae In found will also be revealed as the missing caregiver of the home care facility, Hang Hee Sook.
Prosecutor Kang is also seen in the teaser for He Is Psychometric Episode 5 talking to Jae In possibly about her father and what she could remember about the night of that tragic apartment fire 11 years ago. However, the young police officer tells Sung Mo to give her more time to think about.
It can be recalled that Jae In told Lee Ahn that she will come to him once she is ready to know what really happened that night. Although she believes that her father is innocent of the crime, Jae In fears that she might find out that her father is guilty of arson after all.
"I'll probably spend the rest of my life resenting my dad," she tells her aunt while crying.
Meanwhile, the mysterious man that was seen in the previous episode will continue to follow Prosecutor Kang. In Episode 4, the man in black was seen watching Kang, Lee Ahn, and Jae In from afar.
The man could be connected to the fire at the recent fire at home care facility and at the Yeongseong apartment 11 years ago that killed Lee Ahn's parents and put Jae In's father in jail. The man could be the arsonist and he might also personally know Sung Mo. It was revealed in the previous episode that prosecutor Kang's mother did not only die in the apartment complex fire but she was also stabbed by the assailant.
He Is Psychometric is about a young man, Lee Ahn, with supernatural power to see the past of an object or a person that he touches. While still developing his special ability, he meets a woman who also hides a secret. Together, they team up to solve cases. He is Psychometric airs Mondays and Tuesday at 9:30 p.m. on tvN.
© 2019 Korea Portal, All rights reserved. Do not reproduce without permission.