'Big Bang Theory' Announced Series Finale Date; Cast Member Admits It's 'Very Surreal'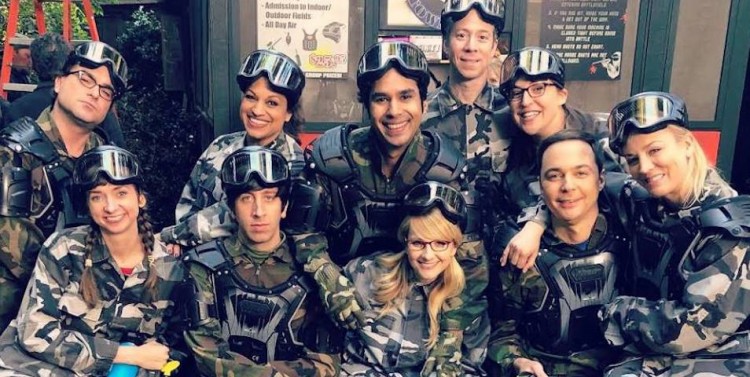 The cast members of Big Bang Theory can't help but get emotional after CBS announced the series finale date. The cast will be taking their final bow in a one-hour finale episode on May 16.
Following the announcement, some of the cast took to social media to share their thoughts about the ending of the show's 12-year run. Kaley Cuoco (Penny) promised not to cry as she shared the final air date of the sitcom.
Cuoco's on-screen husband, Johnny Galecki (Leonard) also shared his thoughts and called the impending conclusion of the series "VERY surreal." On Instagram, he shared a couple of photos of himself and his co-stars. Aside from Cuoco and Galecki, TBBT also stars Jim Parsons (Sheldon), Simon Helberg (Howard), Kunal Nayyar (Raj), Mayim Bialik (Amy), and Melissa Rauch (Bernadette).
"273 episodes filmed. 26 days left on the Big Bang stage. 6 episodes to be filmed. 66 days until the 1-hour finale airs. All VERY surreal. Much ️ to all the fans," Galecki wrote.
Series creator Chuck Lorre earlier revealed how the impending end of the show affects the mood on their set. Lorre said there have been a lot of tearful moments on the set of TBBT since the announcement was made in August.
CBS and Warner Bros. Television first made the announcement in August 2018 that TBBT would not return after Season 12. Apparently, the decision to end the show was made since Parsons is ready to exit the show. However, there were also rumors at the time that CBS, Warner Bros., and Chuck Lorre Production have been negotiating with Parsons to stay for two more years.
The series will wrap up on May 16 with an hour-long finale at 8 p.m. ET. The finale will mark The Big Bang Theory's 279th episode.
The show executives have assured fans that they will get the best ending to their beloved sitcom. All storylines will have a clear ending too in the final episode.
The Big Bang Theory viewers are expecting that there would find out whether or not Amy and Sheldon, and Leonard and Penny will be having their own children by the end of the series.
In the previous episode, it looks like Amy is already preparing Sheldon to have a child as she let her husband play with Howard and Bernadette's kids.
Clearly, Sheldon enjoyed the time with Haley and Michael. Before TBBT ends, he may finally change his views about kids and decide to have his own with Amy.
© 2023 Korea Portal, All rights reserved. Do not reproduce without permission.