'The Crowned Clown' Finale Spoilers: Ha Seon Faces Off With Shin Chi Soo In A Bloody War To Protect His People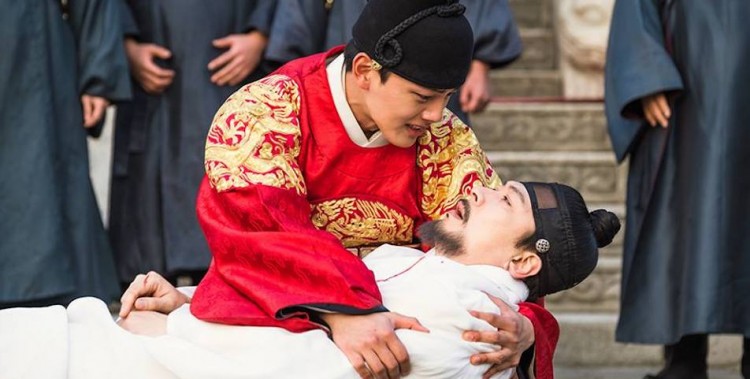 The clown, Ha Seon, will stand his ground against the people who want to oust him from the throne in the upcoming finale of The Crowned Clown. Ha Seon will wage a war after the death of his mentor, Chief Royal Secretary Lee.
The finale of the tvN drama will pick up from the emotional scene of Episode 15 wherein Chief Royal Secretary Lee Yi Kyu (Kim Sang Kyung) killed Lord Jinpyung (Lee Moo Saeng) and sacrifice his life to protect the King. In still photos that were released for the series finale, Ha Seon (Yeo Jin Goo) is seen sobbing while holding dying Lee in his arms.
In the previous episode, Left State Councilor Shin Chi Soo (Kwon Hae Hyo) escaped from prison and kidnapped Secretary Lee. He along with Lord Jinpyung and Queen Dowager (Jang Young Nam) used the King's loyal subject as leverage. They ask the King to surrender and give up the throne.
The King called an assembly to discuss Chief Royal Secretary Lee's punishment for his crimes. Ha Seon and Yi Kyu were able to talk ahead of the assembly. Lee reminded the King about the story that he told him about the two ways on how to survive in the palace. From there, Ha Seon understands what Lee would like him to do.
At the assembly, Shin revealed that Lee sent a secret letter with the King's seal to the rebellion in the south. To protect the King, Lee grabbed a soldier's sword and stabbed Lord Jin.
In the upcoming The Crowned Clown finale, it looks like Ha Seon will ask Officer Jang (Yoon Jong Suk) to protect Queen So Woon (Lee Se Young) as he is about to go to war. Officer Jang, however, will refuse to leave Ha Seon side. He instead leads the soldiers in protecting Ha Seon and the throne.
Meanwhile, Ha Seon is also seen in the finale teaser leaving the King's dagger to Queen So Woon before the war begins. So Woon is then left crying.
The Crowned Clown tells the story of King Yi Heon and the clown Ha Seon (both played by Yeo) who look alike. The King employs Ha Seon to take his place on the throne while he tries to uncover a plot to overthrow him and avoid the assassination plot on him. The Crowned Clown finale airs on March 4 at 9:30 p.m. KST.
© 2020 Korea Portal, All rights reserved. Do not reproduce without permission.