K-Pop Female Group Dreamcatcher's Video Of Dancing Barefoot On Stage Went Viral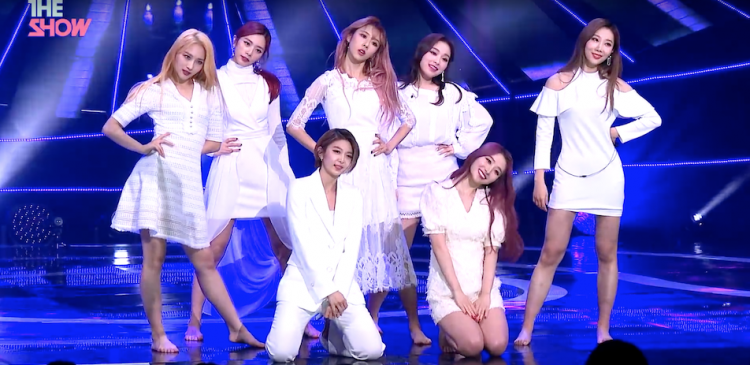 Korean girl group Dreamcatcher wouldn't let high heels ruin their dance choreography. A recent video of the group dancing barefoot went viral.
The members of Dreamcatcher have been praised by K-pop fans for their professionalism on stage. While performing their song "Chase Me" on SBS MTV's, The Show, the Dreamcatcher members realized that they can't dance properly while wearing high heels.
So they decided to take off their high heels and dance barefoot. Some members carefully put their shoes on the side while others simply toss them while dancing. All members ended up without shoes on stage except for one. Member Dami's shoes probably have a strap of her ankle and it will take time to take it off.
The group received applause from the audience especially when they rushed to collect their shoes before leaving the stage after their performance.
According to SBS, the video was taken while the pre-recorded performance of the group's song "Chase Me" is being played on TV. The network noted there are two types of performances in Korean music shows: pre-recorded and live.
When the pre-recorded to go out on TV, the show's staff play the song in the studio and the artists could perform on stage. On that day, Dreamcatcher is scheduled to perform "Daydream" live shortly after the pre-recorded "Chase Me" hence their white outfits.
SBS explained that don't usually release video of artists' performance on stage while the pre-recorded in being aired. However, they decided to upload the Dreamcatcher clip because the members showed passion and love for their fans.
"Despite the fact that those outfits consisted of heels, they danced their hearts out and completely slay the intense choreography. We usually don't upload these performances, but we loved the passion that the group exhibited and the love that they were giving to Insomnias and so we wanted to share it with everyone," the network noted.
Many Dreamcatcher fans, called InSomnia, expressed their gratitude to SBS for sharing the video. Some also noted how the members gracefully kicked off their high heels in sync with their dance choreography. Watch the full video below.
Dreamcatcher is composed of seven members: JiU, SuA, Siyeon, Handong, Yoohyeon, Dami, and Gahyeon. They debuted In January 2017 with the single album Nightmare. On February 13, Dreamcatcher released their fourth EP, The End of Nightmare, along with its lead track, "PIRI."
They are set to embark on their Invitation to Nightmare City tour in several cities in Asia starting next month. They will be in Jakarta on March 20, Singapore on March 22, and Manila on March 24. They are also slated to perform in Seoul, and in Tokyo and Kobe, Japan.
© 2020 Korea Portal, All rights reserved. Do not reproduce without permission.