'NCIS' Season 16 Episode 15 Spoilers: Torres To Mentor High School Students; Sean Murray Talks About Working With Mark Harmon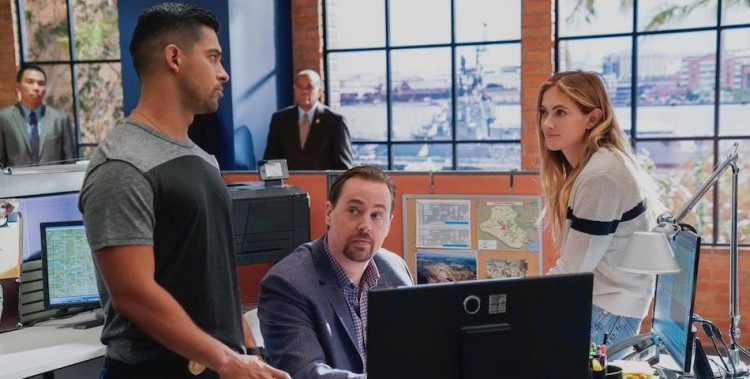 Agent Nick Torres' patience will be tested in the upcoming NCIS Season 16 Episode 15. While the rest of the team will investigate an overboard fatality in a Navy destroyer, Torres will be left on the land to mentor some high school kids.
Director Leon Vance (Rocky Carroll) will give the cocky agent a very important assignment: to mentor three teenagers. As NCIS fans have known, Torres (Wilmer Valderrama) is very good at working alone because of his years of experience as an undercover operative.
But he is also very good at dealing with people due to his extensive undercover work. It doesn't mean, however, that he will also enjoy mentoring kids especially if it means he will be benched in a case because of them.
It would be interesting to see how Nick will deal with the teenagers and why Director Vance chooses him for the job. Vance tells Torres that the kids will be following him which received a laugh from the agent.
The mentorship will have a rocky start when one of the teens asks Nick, "Are you sure you're a real agent?" It seems like Nick will vent out his frustration to Agent Jack Sloan (Maria Belo).
"Teenagers are like raptors. They smell fear," Torres is seen telling Sloan in the teaser.
Meanwhile, Agents Leroy Jethro Gibbs (Mark Harmon), Tim McGee (Sean Murray), and medical examiner Jimmy Palmer (Brian Dietzen) will be on board a Navy destroyer to investigate an onboard fatality. Agent Ellie Bishop (Emily Wickersham) is not seen in the teaser for NCIS Season 16 Episode 15.
She could be left at the office to make the necessary background check on the victim and possible suspects in the case. NCIS Season 16 Episode 15 will air on February 26 at 8 p.m. EST on CBS.
Meanwhile, Sean Murray talked about working with Mark Harmon for 16 years in a recent interview. Murray admitted that NCIS remains as one of the top-rated TV series up to this date because of Harmon. He affirmed that Harmon is the driving force behind the success of the CBS series.
"We wouldn't be here, 16 years later, if it wasn't for Harmon. Harmon is a very special individual," he told Country Living.
Murray also offered a trivia to NCIS fans He revealed that NCIS is not the first show that he and Harmon work together. They actually first met when Murray was just 15 years old on the set of Harts of the West. Murray said back then, the veteran actor already made a good impression on him.
© 2020 Korea Portal, All rights reserved. Do not reproduce without permission.