'The Last Empress' Extends Run With Four More Episodes; SBS TV Series Leads Buzzworthy K-Drama List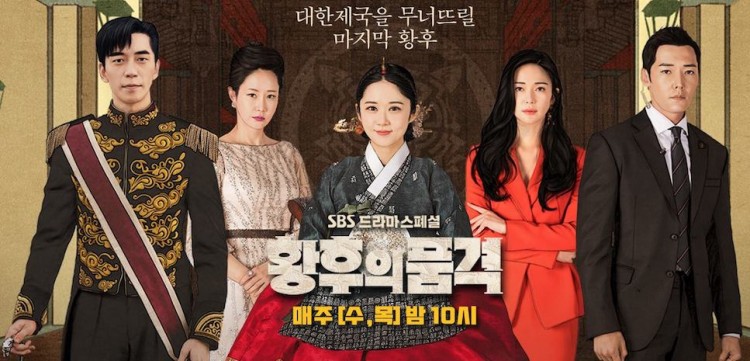 SBS is not yet ready to end Empress Oh Sunny's mission to uncover all the crimes in the Imperial Palace in The Last Empress. The network has announced that it will be extending the K-drama with four more episodes.
Earlier this year, there have been reports that The Last Empress is in talks for an extension. This week, the production team of the high-rating drama has confirmed the additional four episodes, making it with a total of 52 episodes rather than 48. Soompi reported that the show has also vowed to present more exciting episodes to viewers.
The Last Empress follows the journey of stage actress Oh Sunny (Jang Na Ra) to the palace when she marries her ultimate crush, Emperor Lee Hyuk (Shin Sung Rok). Later on, she finds out that the Emperor used his proposal to her as an alibi for a crime that he committed. At the palace, she becomes friends with bodyguard Chu Woo Bin, whose real name is Na Wang Sik, the son of the woman that Emperor Lee Hyuk killed.
Meanwhile, The Last Empress also emerged on top of the most buzzworthy dramas of the week. Good Data Corporation analyzed data-online articles, blog posts, community forums, social media, and video clips views-of 28 dramas that aired between February 4 and February 10. The SBS drama took the No. spot followed by Legal High and Touch Your Heart.
The Last Empress lead stars Jang Nara and Shin Sung Rok are also on the top 10 most buzzworthy cast members. Jang is in sixth place while her on-screen husband is at the seventh spot. Touch Your Heart leading lady Yoo In Na topped the list while her co-star Lee Dong Wook is at No. 4.
The Last Empress airs every Wednesday and Thursday at 10 p.m. KST on SBS. The upcoming Episodes 45 and 46 are expected to be intense as the previous episode ended in a confrontation between Emperor Lee Hyuk and Na Wang Sik, a.k.a. Chun Woo Bin (Choi Jin Hyuk). It is unclear in Episodes 45 and 46 teaser if Woo Bin will survive the confrontation as he is not seen in the trailer for this week's episodes.
There will also be another argument between Lee Hyuk and Empress Sunny and it looks like it will not end well for the latter. The Emperor can be heard warning Sunny that she will remain his wife until she dies.
Another must-watch scene in the upcoming episodes is the arrival of a mysterious woman at Empress Dowager Kang's (Shin Eun Kyung) chamber. The Emperor's mother is shocked to see the woman, who looks like her dead mother-in-law, Grand Empress Dowager Jo (Park Won Sook).
© 2019 Korea Portal, All rights reserved. Do not reproduce without permission.