BTS Teases New Album Coming Up Very Soon & It Will Be A 'Paying Off' To Their ARMY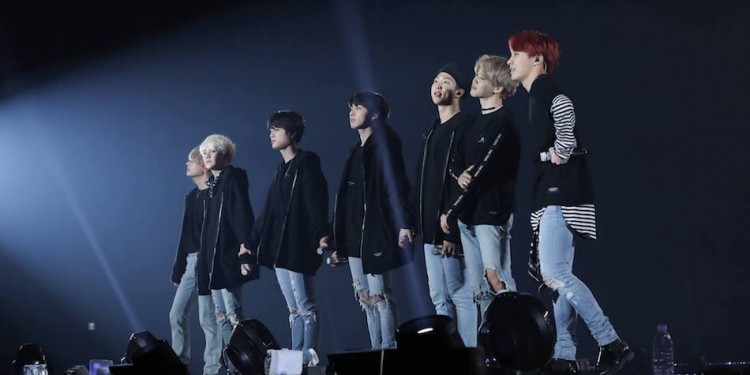 Despite losing at the 2019 Grammy Awards, BTS has left a mark to many at the event, both celebrities and to the Grammys itself. But most importantly, the septet gave a hint about their upcoming new album.
Jin, Suga, J-Hope, RM, Jimin, V, and Jungkook recently attended the 2019 Grammy Awards in Los Angeles. BTS's album Love Yourself: Tear was nominated for Best Recording Packaging. Unfortunately, the award goes to Willo Perron for the album Masseduction.
Nonetheless, the biggest BTS news of the night is the band's forthcoming album. The Bangtan Boys has confirmed that they are working on a new album.
In fact, group leader RM revealed that they even stayed up all night recording their forthcoming LP before catching a flight to Los Angeles for the Grammys. When asked about if the upcoming album has a theme or will it be another trilogy like the Love Yourself albums, BTS refused to reveal more details about it but teased that the concept is "paying off" to their fans.
"The concept is paying off. I hope they [ARMY] love it, and they listen to it, and they like it," RM told Billboard.
This means that the focus of their next album is a tribute to their loyal fandom. Some members of the BTS ARMY have a joke that the band loves their haters more than their fans since they have more songs about those who criticize them. Now, the "Idol" singers are dedicating an album to celebrate their relationship with their ARMY.
When asked about if the group will relax after they present on the Grammys, member Jimin simply said "No." After their experience at the most prestigious music awards show in America, it is not surprising that the members will probably work even harder to create music that Grammys will finally consider for a nomination.
The 2019 Grammy Awards is both memorable to BTS and the ARMY. Love Yourself: Tear is the first ever Korean album that received recognition from the Recording Academy.
Likewise, BTS is the first-ever Korean act to present an award at the Grammys. The ARMY made sure that it will be sweeter for the group by making the hashtag "Tear It Up BTS" trend worldwide on Twitter all day long.
Meanwhile, prior to RM's confirmation about their new album, there are already several proofs that the group is working hard for a new offering to their fans. Although they are still on their sold-out Love Yourself world tour, their tour dates weren't packed as last year.
Other than the fact that they do work on their music even when they are on tour, Big Hit Entertainment may probably make their tour schedule this year a little spread out so the boys still have time for their new album. This means, some of the weekends that they don't have a concert, they are mostly like in the studio to record their songs, create more music, and practice their dance choreography or probably out somewhere to film a music video.
"They made us. They gave the wings. They gave all the opportunities to us. I'm sure they'll be proud." -RM talking about the #ARMY has us in actual tears. ️ #TearItUpBTS #GRAMMYs pic.twitter.com/EtU8HSxdRz — Entertainment Tonight (@etnow) February 10, 2019
Talking to #GRAMMYs presenters, @BTS_twt on the red carpet. On their new album: "We're working on it...it's going to be paying back our fans. We just hope that they love it." #ARMY pic.twitter.com/gpxmzejsKR — billboard (@billboard) February 11, 2019
© 2020 Korea Portal, All rights reserved. Do not reproduce without permission.