BTS Members V & J-Hope Share A Glimpse Of Their Interests, Hobbies, & Private Work Areas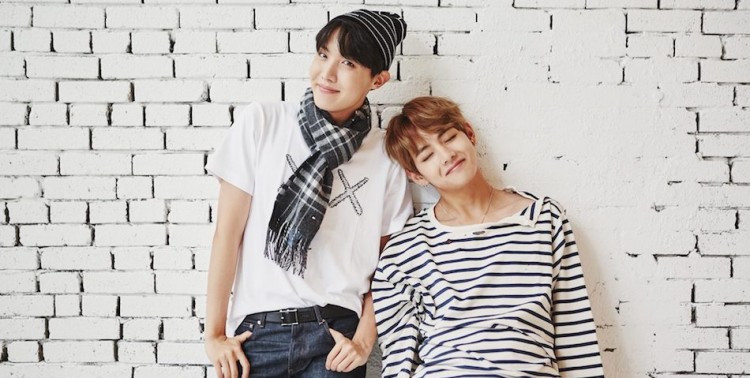 BTS members V and J-Hope have shown that they also do what ordinary people do. They collect different stuff, have hobbies, and have a private life away from the spotlight.
Kim Taehyung, best known by his stage name V, shared on BTS's fancafe on Monday a glimpse of his art studio as well as some of his enigmatic art pieces. He shared several photos of him in his art studio which features a couple of paintings and some expensive art supplies. Along with the photos, he also wrote a message to inspire his fans to pursue their passion in arts.
"I'm going to make what I like. Good hobby," he wrote.
Soon after, BTS ARMY began sharing their own artworks, from traditional painting, photography, digital art, calligraphy, and more, and uses the hashtag #ArtWithTaehyung. Some also shared their art pieces using V as the subject. The hashtag #ArtWithTaehyung then quickly rose to the trending list worldwide.
V is known not only as a great member of K-pop sensation BTS but also as a photographer under the name Vante. He has been known as well to be a huge fan of paintings and other forms of art. He often visits museums and art galleries around the world whenever he has free time during BTS's concert tour.
During the BTS's Love Yourself concert stop in Dallas, Texas, he purchased two paintings from the gallery of local artist Marc Dominus. In one of his V Live sessions, Taehyung also unveiled a jacket which he customized with his painting of a face that is inspired by painter Jean-Michel Basquiat.
Meanwhile, J-Hope gave the BTS ARMY a tour of his new work studio, which he calls "Hope World," on his first V Live session this year. The room clearly reflects the rapper's personality and his interest in collecting stuff. In the room, he has BT21 Mang pillows, KAW collection, "Hope on the Street" hats, and character soft toys including the pink flamingo that V gave to him during the Bon Voyage Season 3.
J-Hope admitted that he still misses his old studio at the Big Hit Entertainment old office. Although it was much smaller compared to his new studio, Hobi felt attached to his old work area because he created his Hope World mixtape there.
Additionally, J-Hope also talked about the possibility of release a follow up to his first mixtape. He said he will try to release another mixtape as soon as he develops some good materials for it. The singer hinted that he will do a lot of "studying and experimenting" this year so he can offer something great to the ARMY.
© 2023 Korea Portal, All rights reserved. Do not reproduce without permission.