PSY Unveils His Own Entertainment Company P NATION; Plans To Debut An Idol Group Soon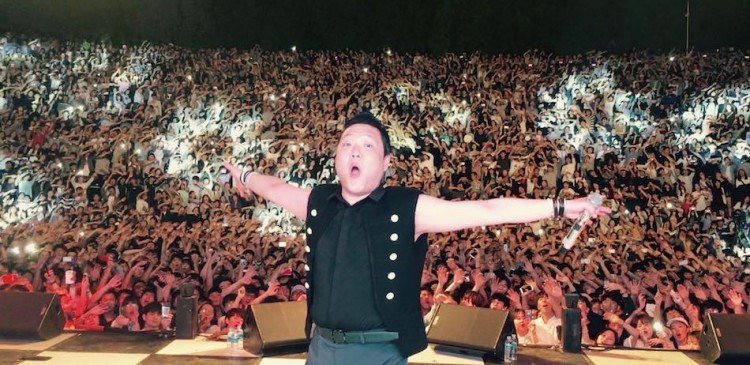 PSY is taking a different role in the Korean entertainment industry this year. He is establishing a name, not as a singer, but as a producer and entrepreneur. The "Gangnam Style" hitmaker has announced the official launch of his own entertainment company, named P NATION.
PSY left YG Entertainment in May 2018 after eight years with the label. Since then, it has been rumored that he plans to start his own agency. On Thursday, he confirmed that he has established a new company called P NATION.
"I would like to share things that I've learned as a PD/manager/director of PSY for 19 years. Allow me to make a playground for passionate players chasing their dreams with sweats!!," he wrote on his social media accounts along with a photo of his company's official logo.
Meanwhile, reports indicate that PSY is currently in the process of forming his first idol group. Apparently, the 41-year-old singer-songwriter has been conducting auditions at vocal and dance academies to recruit potential trainees for his idol group.
Rumors also have it that PSY had also scouted trainees from other agencies to switch to P NATION. Additionally, there were also speculations that the singer also recruited a manager of a rookie development team of a popular entertainment company to train his upcoming idol group.
K-pop fans are thrilled to see how PSY's first idol group will be like. The music is expected to be close to what the artist has created in the past. Aside from being a singer, PSY is also known for writing his music. He also penned songs for other artists as such Lee Seung Gi's "Because You're My Woman" and Seo In Young's "Cinderella."
PSY has been recognized as one of the major contributors to the spread of Hallyu Wave. He debuted his full-length album, titled Psy From The Psycho World!, in January 2001. His biggest break came when he released his sixth album Psy 6 (Six Rules), Part 1 in 2012 and gained worldwide fame for his record-breaking hit song, "Gangnam Style."
The song has reached an unprecedented success. Its music video exceeded one billion views on YouTube in just five months, making it the first MV to do so in the site's history. "Gangnam Style" currently has over 3.2 billion views on YouTube.
Earlier this year, PSY's "Daddy," which also features 2NE1 alum CL, has surpassed 400 million views on YouTube. This makes it the singer's fourth MV on the video sharing site to do so.
© 2019 Korea Portal, All rights reserved. Do not reproduce without permission.