EXO-Ls Getting Impatient Over SM Entertainment's Silence About EXO Planet #5 Tour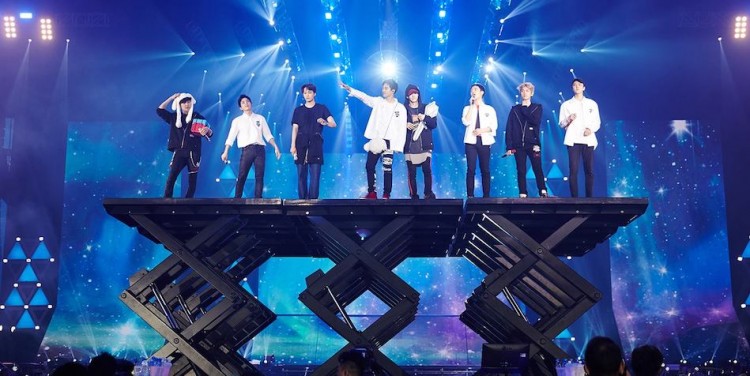 EXO-Ls have been patiently waiting for SM Entertainment make an announcement about the EXO Planet #5 tour. But now, some EXO fans are tired of waiting.
Many are expecting that EXO will be holding their fifth concert series EXO Planet #5 in February 2019 to promote their latest album Don't Mess Up My Tempo. However, rumors have it that EXO is pushing back their concert tour in April.
Some EXO-Ls are upset with the rumor and ask SM Entertainment to release some details about the tour. Many fans expressed their worry that if the concert tour will be pushed back to April, the group's next comeback might be delayed as well.
"Wait... if Planet 5 is (rumored) to be on April and the average length of their concert tour are 9-10 months... WHEN WILL EXO HAVE THEIR COMEBACK???? WILL THEY EVEN HAVE COMEBACK THIS YEAR???? WHAT IS THIS," a fan commented.
EXO released their fifth album Don't Mess Up My Tempo in November 2018. It debuted at No. 23 on Billboard 200, the band's first Top 40 entry in the chart and highest-charting entry ever. After which, many fans are expecting SM Entertainment to make an announcement about a world tour before 2018 ends but it did not happen.
It is worthy to note, however, that an album release doesn't always immediately followed by a concert tour announcement. Ordinarily, it takes a couple of months before the label announced a tour.
For instance, EXO released their fourth studio album, The War, in July 2017. SM Entertainment announced the EXO Planet #4 - The EℓyXiOn on October 19, 2017. The concert series then kicked off in Seoul on November 24, 2018.
This means SM Entertainment can still make an announcement before this month ends and start the concert by late February. Although a February kick off for a concert series is still possible, it may be a little tight for EXO to make preparation.
It is not surprising that EXO-Ls are asking SM Entertainment to make an announcement as soon as possible so they could prepare their budget for ticket purchase too. So far, there is no sign that EXO or SM Entertainment will be making an announcement soon.
Meanwhile, although many are stressing out about the rumored delay on EXO's concert tour, some find it an opportunity to save more money not only for the concert ticket but also for travel expenses. EXO-Ls are all over the world. Many will be traveling to the nearest country where the band is scheduled to perform.
"If EXO Planet 5 is postponed till April, I'm actually happier that way because I would have to go to Singapore for Planet 5 unless they include Sydney in the tour, I probably won't be able to go to sg until August so the timing should be just right," another EXO-L wrote.
© 2023 Korea Portal, All rights reserved. Do not reproduce without permission.