'Outlander' Season 4 Episode 9: Brianna To Finally Meet Jamie & Reunite With Claire; Roger May Not Escape Bonnet Easily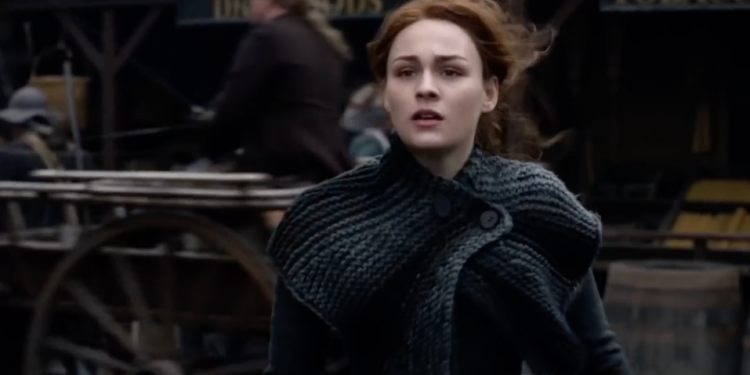 Outlander fans can no longer wait for Sunday's episode of Outlander as it will feature the much-awaited first meeting of Jamie Fraser and his daughter, Brianna. The last episode of Outlander is a traumatic one for Brianna, but her pain could ease up a little when she finally meets her father in Episode 9.
The new episode will open in the aftermath of Stephen Bonnet's (Ed Speleers) assault to Brianna (Sophie Skelton). In the teaser for the upcoming episode, titled "The Birds & the Bees," Bree's maid Lizzie (Caitlin O'Ryan) awakes in the middle of the night to find her mistress shaken and bloody.
Entertainment Weekly has also shared some still photos for the upcoming episode. One of which shows Lizzie talking to Brianna about something. It could be about her parents, Jamie (Sam Heughan) and Claire (Caitriona Balfe). Apparently, Bree will learn that her parents are actually in Wilmington.
The family will finally unite in Episode 9 and they will travel together to Fraser Ridge. The official synopsis for the episode indicates that Jamie will try to bond with Brianna, who is struggling to cope with the traumatic event that happened to her in Wilmington. Meanwhile, Claire will notice that something is wrong with her daughter.
Jamie and Claire keep secrets from one another as they try to help their daughter process her trauma. However, the secrets that they keep will, later on, cause a family spat once they are revealed.
Another photo for the upcoming episode shows Jamie with a very grim expression on his face. He is definitely furious of someone, possibly of Bonnet for what he did to Bree. Another photo shows Murtagh (Duncan Lacroix) paying his friend a visit. It could be to thank Jamie for sending Fergus (César Domboy) to warn him about the governor's plan of arresting him.
Meanwhile, it looks like Roger (Richard Rankin) will be having a hard time to get away from Bonnet. It can be recalled that Roger volunteered to work on Bonnet's ship in exchange for his free passage to America. In the teaser for Episode 9, Roger tells Bonnet that he intends to stay in Wilmington. The pirate can be heard asking Roger if he is abandoning his duties to him already.
Understandably, Roger would like to stay in Wilmington since he already found Brianna there. He most likely tries to win back Bree again after things between them ended up in a bad state after Bree found out that Roger hides her parents' obituary from her. Outlander Season 4 Episode 9 will air on December 30 at 8 p.m. ET on Starz.
© 2019 Korea Portal, All rights reserved. Do not reproduce without permission.