Top 10 K-Pop Songs Of 2018: BTS's 'Fake Love,' Red Velvet's 'Bad Boy,' iKON's 'Love Scenario,' BLACKPINK's 'Ddu-Du Ddu-Du' & More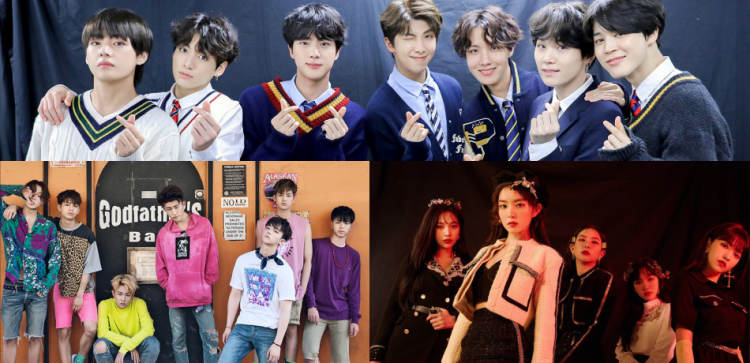 As Korean wave continues it surge across the world, K-pop songs leading the list of the country top exports. Here's a look back on the best K-pop songs of this year.
1."Fake Love" (BTS)
This is the lead track of BTS's Love Yourself: Tear album which was released in May. The septet use of a combination of pop, hip-hop, and adult contemporary music to captivate the hearts of many in their visually impressive storytelling of misconceived love.
"Fake Love" made an impression when BTS performed the song live at the 2018 Billboard Music Awards on May 20, 2018. The song debuted at No. 10 on Billboard Hot 100 and No. 1 on Digital Songs Sales chart. "Fake Love" also lands at No. 22 on Billboard's 100 Best Songs of 2018: Critics' Picks, the highest of all K-pop songs in the list.
2."Bad Boy" (Red Velvet)
Garnering the top spot on Billboard's Top 20 K-Pop Songs of 2018, this R&B track highlights Irene, Seulgi, Wendy, Joy, and Yeri's vocals. The track also landed a spot (No. 43) in Billboard's 100 Best Songs of 2018: Critics' Picks list. Additionally, it also charted at No. 2 on Billboard's World Digital Songs chart, which also makes it the best US sales to date of the group.
Released earlier this year, the song also gains recognition as one of the songs that Red Velvet performed during the "Spring is Coming" concert in Pyongyang, North Korea. The event was attended by Kim Jong Un himself.
3."Love Scenario" (iKON)
Korean netizens couldn't stop singing iKON's "Love Scenario" because of its relaxed vibe and easy-to-follow melodies and lyrics. The catchy tunes make K-pop fans of all ages grooves with the seven members of the group as they reflect on the memories of a failed romance. The song's popularity, especially among children, made some school teachers to prohibit the students to sing the song in classrooms.
Off from the iKON's second studio album, Return, "Love Scenario" won "Song of the Year" in the recent 2018 Melon Music Awards. It is also recognized as one of iKON's signature songs.
4."Shine" (Pentagon)
A scandal doesn't stop K-pop fans to listen to Pentagon's breakout hit "Shine." The song earned the 10-member group its first Top 10 hit on Billboard's World Digital Song Sales chart and the No. 69 spot on Billboard's 100 Best Songs of 2018: Critics' Picks. It is the title track of Pentagon's sixth extended play, titled Positive.
It is also the last promoted album of the group's rapper, E'Dawn, after he departed the group following a dating scandal. In August, he and labelmate, HyunA, revealed they are dating for two years which eventually led them to exit their label, Cube Entertainment.
5. "BBIBBI" (IU)
Billboard's Jeff Benjamin described this IU's song as the most "deeply personal" for the singer to date. In the R&B track, the 25-year-old Korean singer hits back to haters and critics with her sweet and bouncy single. IU emphasizes personal rights in her song and uses phrases such as "yellow C-A-R-D" in reference to those who disrespect others' privacy.
6. "Baby Don't Stop" (NCT U)
Members Taeyong and Ten showed off their powerful vocals in the smooth and sensuous lyrics of this NCT U single. The two perfectly split the verses in the song with Taeyong rapping his lines and Ten singing his verses fluidly. The duo also showcased their sharp dance choreography in the music video that emphasizes why they are NCT's main dancers.
7. "Tempo" (EXO)
In this song, EXO has reminded everyone that they are one of the strongest vocal lines in K-pop today. "Tempo" showcases pitch-shifted vocals and a cappella harmonies that are definitely show stopper.
The title track of their comeback album Don't Mess Up With My Tempo, EXO has delivered an eclectic lead song that offers twists and turns that left listeners stun until the end. As a bonus, member Lay participated in the Mandarin version of "Tempo" and also appears in its music video. "Tempo" also becomes EXO's fourth No. 1 on Billboard's World Albums chart.
8. "BBoom BBoom" (Momoland)
Undeniably, this song is one of biggest hits of 2018 and also put Momoland into stardom. The catchy and easy to follow dance moves of the nine members of the K-pop female group has dominated the internet when the music video of "BBoom BBoom" was released earlier this year.
The song racked up over 100 million streams and at least 294.53 million views on YouTube over the year, making it the third most-watched K-pop MV of 2018. "BBoom BBoom" also gave the Best Female Group Dance Track award at the 2018 MBC Plus X Genie Music Awards.
9. "What is Love?" (TWICE)
"What Is Love?" made it possible for TWICE to grabbed their third consecutive Song Of The Year award at the Mnet Asian Music Awards. After its released in April, the song peaked at No. 3 on Billboard's World Digital Songs chart.
The music video of "What is Love?" brings back memories of some of the classic movies of all time. The nine members of the chart-topping girl group featured the key scenes from movies as "La La Land," "Pulp Fiction," "The Princess Diaries," and more.
10. "Ddu-Du Ddu-Du" (BLACKPINK)
Being this year's most-viewed K-pop music video is enough proof that BLACKPINK's "Ddu-Du Ddu-Du" is one of the fan-favorite songs of 2018. The song prominently features trap beat and infectious melodies while Jennie, Lisa, Jisoo, and Rosé show off their charisma in "Ddu-Du Ddu-Du" music video.
The song debuted at No. 55 on the Billboard Hot 100, making it as the highest-charting hit ever by a K-pop girl group on the chart. "Ddu-Du Ddu-Du" also gave BLACKPINK the record of fastest K-pop group to reach 500 million views on Youtube.
© 2023 Korea Portal, All rights reserved. Do not reproduce without permission.