MAMAMOO's Agency Addresses Reactions To Hwasa's Outfit During Performance At The 2018 MAMA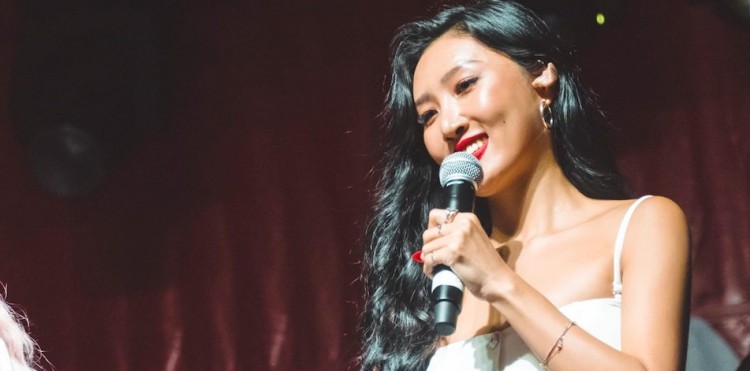 The sexy outfit of MAMAMOO's member Hwasa during the group's performance at the recent 2018 Mnet Asian Music Awards Fans' Choice in Japan has received mixed reactions from netizens. MAMAMOO's label has spoken about the most-talked outfit at the award ceremony and defended their choice of wardrobe.
The four members of MAMAMOO put up fiery performance at the 2018 MAMA Fans' Choice Awards on Wednesday. Solar, Moonbyul, Wheein, and Hwasa took to the MAMA stage and showcase their talent through solo stages. The group also performed "Egotistic" and "Starry Night."
Among the four members, Hwasa attracted most attention because of her sexy skin-tight red latex bodysuit and thigh-high red boots. She performed "Don't" along with some male backup dancers were also dressed in red glossy outfits.
Reports indicate that right after the show, articles about Hwasa's performance and outfit ranked high on the list of Naver's most-viewed articles. It went viral as she also ranked No. 1 on the list of rising real-time search terms on Naver at the time.
MAMAMOO's stage received mixed reactions. Some said they enjoyed Hwasa's performance because she looks cool and confident. She was also compared to American singers such as Beyonce, Katy Perry, and Britney Spears.
"Why do male idols who take off their tops get praised but female idols who show off a little cleavage get cursed out!?," a fan wrote.
However, there were those who admitted that there were shocked by her outfit. Some called it inappropriate and too sexy for "Korean standards." Others said they felt embarrassed watching the performance with their family.
"I mean, sexy has its limits. I was shocked by her short outfit during Melon Music Awards but compared to MAMA.... I'm seriously wondering it her stylist lost her mind. I'm lost for words..." a netizen commented.
MAMAMOO's agency RBW has responded to the netizens' reactions about Hwasa's sexy outfit. The label said they just choose the outfit that fits the song that the 23-year-old singer sang.
"We didn't know the outfit would become such a topic of discussion. We just chose an outfit that fits well with the song she was singing on stage, as we usually do," Soompi quoted a representative of the agency as saying.
This is not the first time Hwasa's bold outfit sparked controversy. In August, the singer also wore a sexy red outfit at MAMAMOO's concert. Netizens were also divided on their opinion about her wardrobe.
Meanwhile, MAMAMOO was awarded the Worldwide Fans' Choice Top 10 award that night. The final night of 2018 MAMA will be held at Hong Kong's AsiaWorld-Expo on December 14. American pop icon Janet Jackson is set to perform in the show.
© 2023 Korea Portal, All rights reserved. Do not reproduce without permission.