MAMAMOO's Wheein Under Fire For Using Typhoon Prapiroon In Promo Of New Song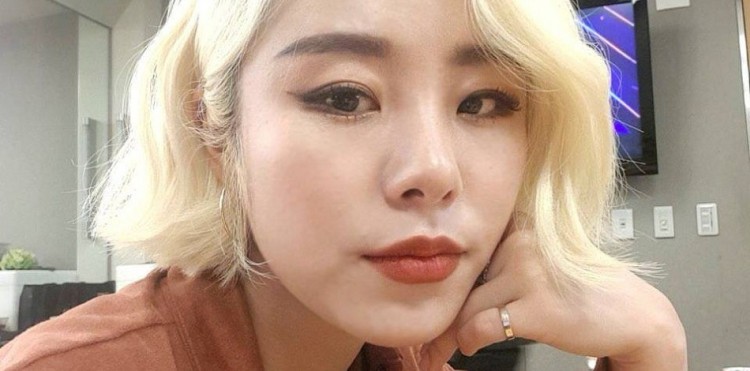 Netizens slammed MAMAMOO member Wheein for making a reference to Typhoon Prapiroon in a post about her K-pop band's latest song "Rainy Season." Many think it is inconsiderate of the singer to mention the storm while thanking MAMAMOO fans for helping the track reach the fifth spot in MelOn Charts.
On July 1, Wheein shared on MAMAMOO's official fan café a photo of herself with a thumbs-up. She captioned the photo: "Listening to 'Rainy Season' paired with Prapiroon. Thank you MooMoos for #5."
Netizen quickly reacted and criticized Wheein for mentioning Typhoon Praprion that recently caused evacuation of citizens after it unleashed heavy flooding and strong winds to South Korea and southern Japan. Many found the post insensitive and slammed the singer for being uncaring about people who were affected by the typhoon.
However, some fans also defended Wheein, claiming that the singer posted the message before the typhoon hit South Korea. They added that Wheein took down her message as soon as Prapiroon caused devastation to people.
Some netizens, however, do not accept Wheein's fans' reasoning. They stressed that even if the idol shared the message before the strong typhoon arrived, she should have anticipated that it would have a destructive effect considering it was already predicted that it could make landfall in the country.
"Everyone who's claiming she uploaded it before all the damage and that she deleted soon after, do some research about natural disasters. Typhoons always bring disasters to people and property... She should be ashamed for even making a play on words like this as a celebrity. She should've known better," one commented.
Wheein deleted her post and issued an apology for her "foolish and careless" post. The singer also vowed to be more careful in the future.
"I would like to express my apologies to everyone who was hurt and uncomfortable by my foolish and careless writing. From now on, I will try to think more cautiously and carefully," Wheein wrote.
This is not the first time Wheein was criticized for an "inappropriate" post. In June 2017, she shared a goofy photo of herself with the caption: "I take weird photos sometimes... Because that's how I can feel I'm no different from non-celebrities... This is the only tool that I can use to hide myself...." The MAMAMOO singer was slammed for "looking down on non-celebrities".
Meanwhile, MAMAMOO earlier released a group teaser photo for their seventh mini-album Red Moon. Individual concept photos of Wheein, Solar, Moonbyul, and Hwasa will be out from July 4 to 6, while the second group snap is expected on July 10. The music video teasers for Red Moon will be out from June 11 to 13, ahead of its official release on July 16.
© 2023 Korea Portal, All rights reserved. Do not reproduce without permission.