BIGBANG's Seungri Admits He Is Scared When Bandmates Return Without Him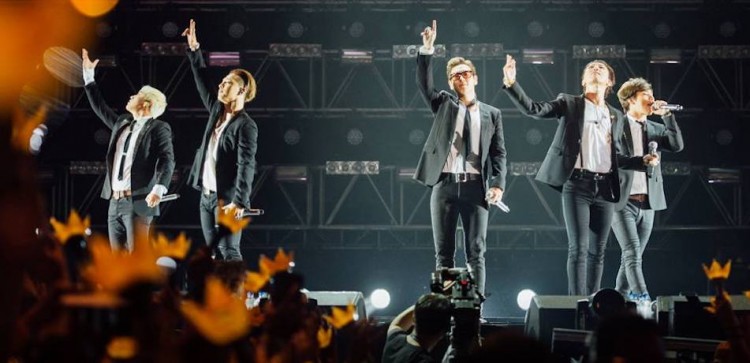 BIGBANG member Seungri has admitted that he is a bit scared when he thinks about his bandmates' return while he leaves the spotlight to start his military service. The K-pop idol said he feels frightened that G-Dragon, T.O.P, Taeyang, and Daesung will promote new music without him.
During the Youth Arena 2018 Seoul event over the weekend, Seungri can't help but reminisce the memories he shared with his bandmates. The singer said the event's tagline "The Last Festival" reminded him of BIGBANG song "Last Dance."
For him, "Last Dance" represents the memories that the members and their fans have shared together. Seungri then talked about how he treasures BIGBANG and how important the members to him.
"What really matters isn't becoming famous or making lots of money. What really stays with you no matter what is how you lived your life with the precious people who love you," Seungri said.
Then he confessed how he will feel when his four hyungs will return from their military service and will resume promotions without him. All members of BIGBANG, except for Seungri, are currently serving the military. The 27-year-old singer is expected to start his enlistment in early 2019.
"It's almost reaching a year since I began solo activities since they left for the army. And soon they'll come back and they'll be promoting without me. And that does scare me a little," Seungri admitted (via Soompi).
BIGBANG fans have expressed excitement over the band's return after Seungri shared a photo of him along Taeyang and Daesung when they had mini reunion recently. Seungri made a special appearance at the 2018 Ground Forces Festival in Gyeryong last month. The highlight of the show was when Seungri, Taeyang, and Daesung shared the stage and sang together some of BIGBANG hit songs such as "Bang Bang Bang" and "Fantastic Baby."
G-Dragon, Taeyang, and Daesung began their military training earlier this year. They are expected to be discharged in November 2019. T.O.P, on the other hand, started his military service in February 2017. His term has been extended to June 2019 after he pleaded guilty for marijuana usage.
Seungri has been promoting as a solo artist while his bandmates are completing their military service requirements. In July, he released his first Korean studio album The Great Seungri with "1, 2, 3!" as its title track. He also embarked on his first solo concert in Korea in August.
Seungri also appeared in several other TV programs and starred in YG and Netflix's variety show, YG Future Strategy Office. Currently, he appears in SBS new variety show, I Will Win You Over with My Channel, along with Kang Ho Dong. The show premiered on November 15 on KBS.
Meanwhile, Seungri also revealed that he plans to launch his YouTube channel soon. He encouraged his fans to share to him the contents they want to watch in his channel.
© 2023 Korea Portal, All rights reserved. Do not reproduce without permission.