Wanna One's Kang Daniel & Park Woo Jin Share "Ghost" Experiences At A Hotel In U.S.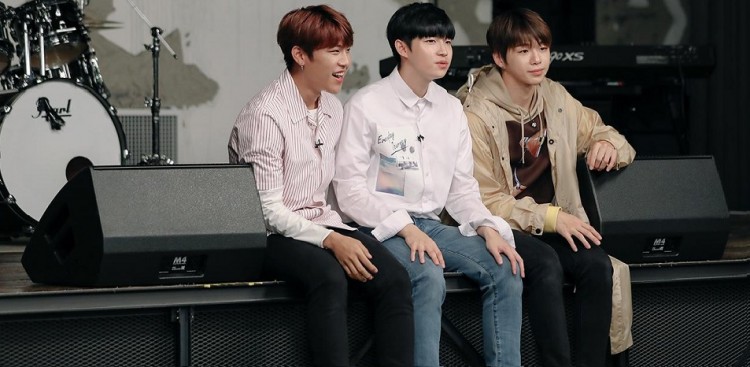 Not all of Wanna One's out of the country concert are fun when they are off the stage. There are some scary and spooky experiences too.
Wanna One members Kang Daniel, and Park Woo Jin shared their spine-chilling ghost stories from their recent tour in the U.S. In the latest episode of KBS's Happy Together, the members were asked if they have some odd experiences while on tour abroad. Park Woo Jin said he never have a ghost or sleep paralysis experience in the past until recently when they were on tour in America.
He then shared a story about a frightening experience he had in a hotel in Newark. He described the hotel as having a very eerie atmosphere like those seen in horror movies.
Woo Jin said at first he had a bad dream that a large man is walking into his room. He woke up, but when he tried to get up, he struggles to move his arm. He claimed to saw a dark shadow pressing his left arm.
"I struggled to move the rest of my body, and at the exact moment that I finally managed to throw my body to one side and get up, I saw the dark shadow pass by," Woo Jin said (via Soompi).
Kang Daniel then shared his own strange experience at the same hotel. The K-pop idol said someone knocked on his room and delivered a room service. While eating, he remembers that he did not order any food and he also noticed that the room service was left on the floor of the hallway and not delivered on a food cart.
The next morning, he asked their manager if he ordered food for him. Their manager said he did not ask the hotel to deliver food for Daniel. The singer initially thought was he might have eaten the leftover food the others members staying in the next room have left. But his mysterious meal could have also delivered by someone else.
The 11 members of Wanna One are currently promoting their upcoming album 1¹¹=1(POWER OF DESTINY). The band's first studio album is set to drop on November 19. This is also Wanna One's last comeback album before their contract ends in December.
Meanwhile, the group is also preparing for their upcoming comeback show. Wanna One has released a black-and-white teaser video for their Mnet comeback show titled "Power of Destiny." The group will be performing their new title track and b-sides of 1¹¹=1(POWER OF DESTINY) album in the event.
The Wanna One comeback show is set on November 22 at 6 p.m. KST. It will be broadcast simultaneously worldwide on Mnet, Facebook, and YouTube.
© 2023 Korea Portal, All rights reserved. Do not reproduce without permission.