'Outlander' Season 4 Episode 2 Preview: Claire Clashes With Jamie's Aunt Jocasta; Jamie Tries To Save A Slave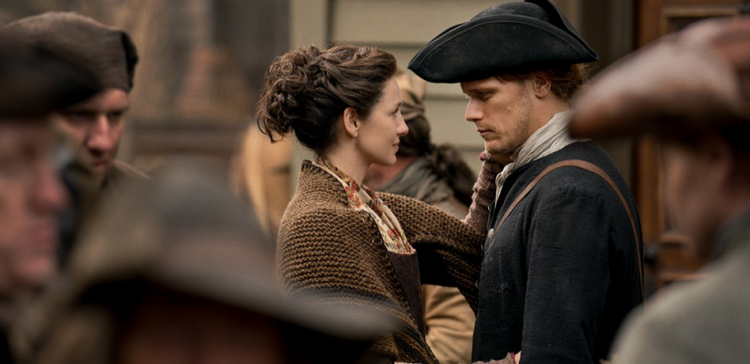 Actress Maria Doyle Kennedy will be making her debut in the upcoming Episode 2 of Outlander Season 4. At first, Jamie and Claire Fraser will have a warm welcome from Aunt Jocasta. However, things will turn sour when the two women clash over slavery of black workers at Jocasta's estate.
The upcoming Outlander Season 4 episode will touch the issue of slavery in America during the 18th century. Starz released the official synopsis for Episode 2 and it indicates that the Fraser couple will be caught in the middle of a conflict between Jocasta (Kennedy) and the workers on her land.
"Claire (Caitriona Balfe) and Jamie (Sam Heughan) Fraser visit his Aunt Jocasta Cameron (Maria Doyle Kennedy) at her plantation, River Run. When tragedy strikes at the plantation, Jamie and Claire find themselves caught between what's right and the law of the land," the synopsis for "Do No Harm" episode stated.
In the previous episode, Claire and Jamie had a tragic river journey to Aunt Jacosta's land. The stowaway, Stephen Bonnet (Ed Speleers), that they helped sneak into the British soldiers is indeed a dangerous person.
Bonnet along with other robbers attacked the riverboat of the Fraser while the group is spending the night at the river bank. Bonnet's men beat Jamie while the former killed the couple's friend Lesley (Keith Fleming). Bonnet also stole the pouch of gemstones from Jamie and one of Claire's wedding rings.
In Episode 2, Jamie blames himself for what happened to Lesley. But Claire comforts him and tells her husband that it is not his fault.
The teaser for the episode also shows that it will not be long before Claire and Jamie will find out that Aunt Jocasta owns slaves. Claire witnesses some black workers working very hard on the land of Jamie's aunt. As expected, Claire and Jamie will not keep silent about the matter.
"I don't agree with keeping people as property," Claire tells Jacosta to which the latter replies, "You are a peculiar lass."
Jamie is also seen pointing a gun to one white man in an attempt to stop him from hanging one of the slaves up in a tree. However, it looks like his action will have a grave consequence as a group of angry men armed with flaming torches is seen marching to River Run.
The couple may eventually realize that the "America the Beautiful" that they thought is far from reality. Outlander Season 4 Episode 2 will air on November 11 at 8 p.m. on Starz.
© 2020 Korea Portal, All rights reserved. Do not reproduce without permission.