MONSTA X Update: 2nd World Tour Kicks Off; Kihyun Tears Up, 'Jealousy' Hitmakers Discuss Possible Collaboration With Western Artists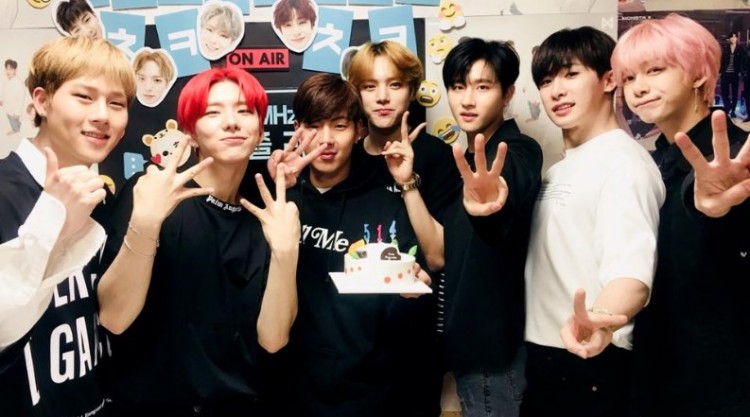 With a lot of gigs here and there, MONSTA X is thankful to their fans, the Monbebes. This was the same way Kihyun's late grandmother felt when she was still alive. In fact, during the group's world concert tour at Jan Chung Arena in Seoul, the 24-year-old star revealed how grateful his grandmother was to their supporters.
Kihyun seemed to be overwhelmed when he was thanking the MONSTA X fans who watched their concert. The South Korean singer suddenly went into meltdown and cried while he was remembering his late grandmother and how grateful she was to the love and support the Monbebes had been giving them.
According to All Kpop, Kihyun's late grandmother died in April. At the time, MONSTA X was busy promoting their song, "Jealousy." Ever since the group hit stardom, she showed her love and appreciation to the Monbebes; thus, Kihyun thanked their fans on her behalf.
Meanwhile, MONSTA X is about to begin their second world tour across America in July. The American Monbebes will finally see Wonho, I.M., Minhyuk, Shownu, Jooheon, Kihyun, and Hyungwon perform their hit songs live. This includes "Jealousy" and Beautiful."
Ahead of their American tour, MONSTA X talked about what makes them loved by their foreign fans in an interview with Idolator. "Our energy on all the different stages and communication with our fans," Shownu said.
Wonho added that they are way cooler compared to other idols, although he gave credits to the other K-pop bands.
Minhyuk also said that MONSTA X's strength on stage is different from what others show. His claim was even supported by Kihyun and I.M., who said fans love their energy, while Jooheon added that their performance on stage is special.
Talking about the possible collaboration with Western artists, Shownu said that it will be nice if any of MONSTA X's songwriters will collaborate with "great" foreign artists. If truth be told, the American R&B artist R.LUM.R recently expressed his interest to work with Kihyun.
"It would be really nice for Kihyun," Shownu added, to which Kinyun responded with he would "really love to make it happen."
In addition, Wonho said that he wants to work with The Chainsmokers while Hyungwon added that he likes Charlie Puth. Minhyuk didn't choose anyone as he doesn't care if MONSTA X is going to work with a "rookie or an established artist." He just wants to collaborate with anyone.
Jooheon admitted that MONSTA X has no plans to collaborate with anyone at the moment. But, the group wants to do it someday with an artist they really admire. I.M. then revealed that he is working with ELHAE right now.
© 2023 Korea Portal, All rights reserved. Do not reproduce without permission.