South Korean President Park Geun Hye Vows To Cooperate in Global Campaign Against Terrorism In The Wake of Paris and Beirut Attacks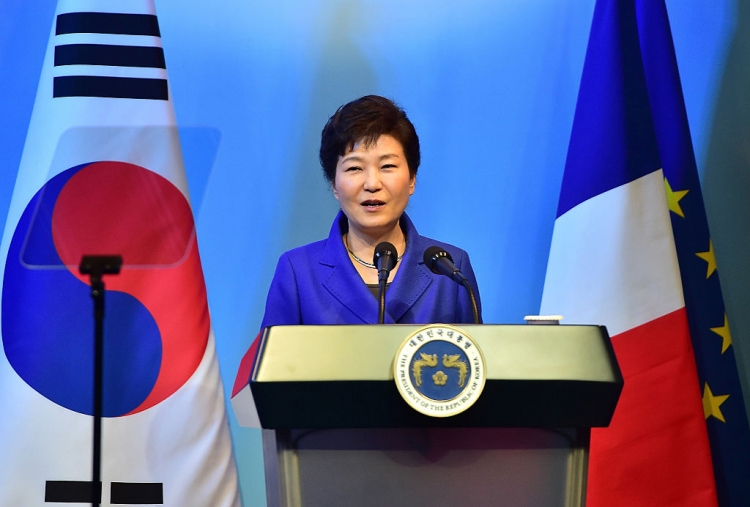 In the wake of the recent terrorist attacks in Paris and Beirut, South Korean President Park Geun Hye vowed on Sunday to cooperate with the international community in a campaign against global terrorism.
Park Geun Hye joined world leaders at the Group of 20 Summit, held in Antalya, Turkey. During a working dinner held Sunday, Park condemned the recent waves of terrorism and expressed her condolences to the victims and their families.
Park described terrorism as a threat to "the lives and basic values of the people" and has "continuously evolved" and "transcended borders".
To strengthen the global drive against terrorism, Park suggested the implementation of United Nations Security Council Resolution 2178, the Korea Herald reported Monday.
With South Korea being the chair country of the Financial Action Task Force (FATF), which mostly comprises of members of the Organization of Economic Cooperation and Development, Park displayed her resolved to "strengthen legal measures in member countries to stop terrorist funding."
The FATF is an inter-governmental body established in 1989 to stop 'international money laundering and terrorist financing," Korea JoongAng Daily noted Tuesday.
Park called on the G20 member states to formulate a solution that will address concerns over refugees that have been misplaced due to internal instability in Syria, Libya, and other transitional states.
"I believe the G20 should lead the efforts to share burdens and responsibilities being laid on the sources of refugees, their destinations and the countries in between. ... Korea, too, will help resolve the refugee problems by expanding humanitarian aid," she said. This is line with South Korea's plan to increase its contributions to global concerns.
The issue regarding North Korea's nuclear program was also brought to the surface. Park proposed bringing in infrastructure investments to North Korea in exchange for Pyongyang's discontinuance of its nuclear program.
© 2023 Korea Portal, All rights reserved. Do not reproduce without permission.