'This Is Us' Showrunner Explains Why Randall & Toby's Funny Scene Got Chopped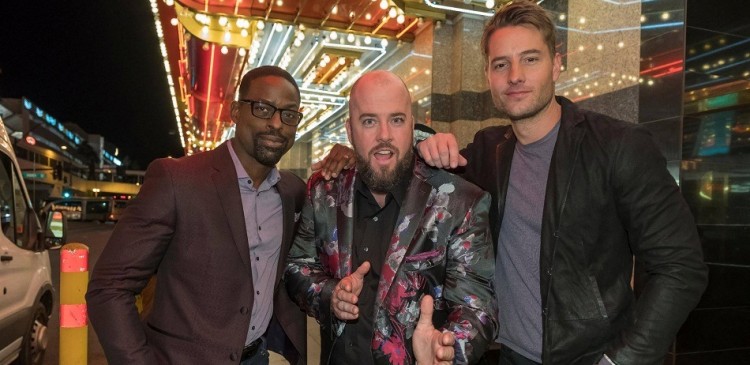 Some This Is Us fans are upset that the series' bosses decided to delete a scene of Randall and Toby at the hospital in the previous episode of the show. This prompted series creator Dan Fogelman to offer an explanation as to why the scene did not make it to the final cut.
The recent episode of the NBC drama offered tons of tear-jerking scenes and fans could have used a little funny moment. That could have been the scene between Randall (Sterling K. Brown) and Toby (Chris Sullivan) at the hospital. Unfortunately, it wasn't shown on Tuesday's episode and fans wouldn't know about it if Brown did not share it on his Twitter account.
"Please enjoy a deleted scene from tonight's episode of #ThisIsUs. One might say that Randall and Toby get close...," Brown captioned the clip. And now This Is Us fans are asking why such a light-hearted and a quite hilarious moment was never shown on TV.
The deleted 93-second scene shows Randall and Toby sharing a special moment at the hospital while Kate (Chrissy Metz) is undergoing an egg retrieval procedure. Kate and Toby's IVF doctor told the latter that she also needs some sperm from him. Since Toby is already stressed out and worried about Kate, he told Randall that is having a hard time relaxing and do what needs to be done.
Randall rises to the occasion and helps his brother-in-law to calm his nerves. He asks Toby to tell him a scenario that will make him comfortable. Toby answers "sitting on the couch watching Chopped eating a frozen-yogurt pop." Randall then makes Toby imagine doing exactly like that. Watch the clip below.
"Why in the world would this get cut?!!!! If this is what's being cut, that editing room must be filled with masterpieces! Release them all. Such a Jack move Randall. Being there for your family umm no matter what! Love it," one fan commented. "That's #emmy worthy," another added.
Fogelman responded to fans' comment and explained that the scene got deleted not because of actors or the content. Instead, it is simply because there is no enough time.
"Our favorite scene we've ever had to "chop" purely for time. Love us some #Chopped and thrilled this found a way online," Fogelman tweeted while adorably mentioning the American reality cooking TV show.
A quick recap of Tuesday's episode, Kate did fine and her doctor is pleased with the number of eggs they able to harvest from her. Randall decided to run for public office but Beth (Susan Kelechi Watson) got fired from work.
The man who kissed Rebecca (Mandy Moore) in the flashback is actually Allan, the man she dated for three years. Allan asked her to move with him to New York but Rebecca realized that she is in love with Jack (Milo Ventimiglia). She told it to Allan's mother before visiting Jack at his house. This Is Us Season 3 will return on Tuesdays at 9 p.m. ET on NBC.
Please enjoy a deleted scene from tonight's episode of #ThisIsUs. One might say that Randall and Toby get close... pic.twitter.com/EPZ3PMkcnj — Sterling K Brown (@SterlingKBrown) October 10, 2018
© 2023 Korea Portal, All rights reserved. Do not reproduce without permission.