'This is Us' Season 3 Episode 3 To Reveal Rebecca's Mysterious Beau's Identity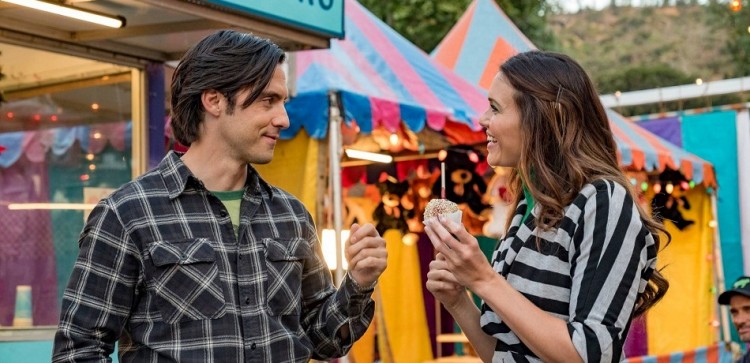 The list of mysterious personalities in This Is Us is building up. First, there is the mystery woman that old Randal and adult Tess have been talking about in the fast forward scene. Now, there is a man who kissed Rebecca which Jack witnessed in the flashback scene of the Pearson couple in the premiere episode of Season 3.
In the said episode of the NBC drama, Jack (Milo Ventimiglia) and Rebecca (Mandy Moore) had their first date at a carnival back in 1972. Their first date almost turned into a disastrous one but thanks to Jack's honest confession that he couldn't buy Rebecca an umbrella, it ended up really well and they even shared a kiss.
The next day, Jack bought some flowers and drove back to Rebecca's house to return the jacket she left in his car. However, he saw Rebecca at the door with a man (played by Hunter Parrish). He leaned in to kiss Rebecca and she kisses him back before letting him in the house. Now, This Is Us fans are puzzled on who this man might be.
This Is Us producers have assured that the identity of Rebecca's (Mandy Moore) mystery man will be revealed in the upcoming episode of Season 3. Clearly, he must be someone who has a romantic relationship with Rebecca since she reciprocated the passionate kiss.
Executive producer Isaac Aptaker teased that Episode 3 will "deep dive" into Rebecca's past including the time before war veteran Jack came into her life. When asked if Rebecca will be making a big decision in the upcoming episode about Jack and the mysterious man, executive producer Elizabeth Berger said the character will surely do.
However, it wasn't clear if the future mother of the Big Three will choose Jack right way or the realization will come a little later. Moore earlier said in an interview with Entertainment Weekly that the early stage of the Pearson romance is not as romantic as fans expect.
"People expect it to be a straight line to finding one another and living happily ever after - and that may not be the case," Moore said.
It may not come instantly but viewers have already know that the two will end up together eventually. Moreover, the actress shared some photos from the upcoming episode that show Rebecca and Jack will still see each other on the same day that the former kissed the mysterious man. See the photos below.
Meanwhile, This Is Us creator Dan Fogelman also dropped a hint about an intimate moment between Jack and Rebecca that viewers shouldn't miss. He compared it to Demi Moore and Patrick Swayze's epic scene in the classic movie Ghost.
"There's a scene in it that I love so much. I find it so wildly romantic. For me, it's like Demi Moore and Patrick Swayze doing pottery in Ghost, but everyone has clothes on and it's the opposite of Ghost," Fogelman said.
Meanwhile, present-day Kate (Chrissy Metz) will be facing the repercussion of her words last week about being the only one in the family who will carry on a piece of the Pearson patriarch. Kevin (Justin Hartley) told Randall (Sterling K. Brown) about it and the latter is definitely upset. This Is Us Season 3 Episode 3 titled "Katie Girls" will air on Tuesday at 9 p.m. ET/PT on NBC.
These are very vague hints as to what happens in tomorrow night's episode of #thisisus. pic.twitter.com/JMjWodcpOR — Mandy Moore (@TheMandyMoore) October 8, 2018
© 2023 Korea Portal, All rights reserved. Do not reproduce without permission.