John Legend x Red Velvet's Wendy Collaboration: 'Written in the Stars' Duet To Drop On October 19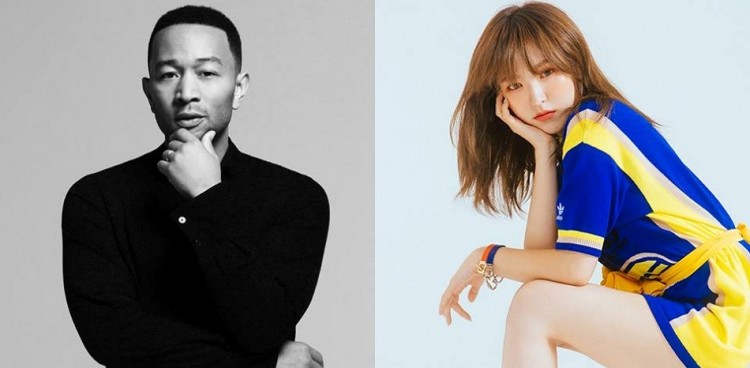 It's a dream come true for Red Velvet member Wendy while it is the first time for John Legend to collaborate with a Korean artist. SM Entertainment has confirmed that its very own artist Wendy will be releasing a duet song with John Legend, titled "Written in the Stars."
The announcement came with a short clip of the American crooner and Wendy promoting the song. The video was taken on the set of possibly the music video of "Written In The Stars." Apparently, the song is an entirely English track.
"I just couldn't believe it that I would be working with an artist that I had always listened to growing up. It still feels unreal that a song will be released with both my voice and his together," Wendy told Vogue Magazine.
According to the publication, Wendy flew to Los Angeles last month to record the vocals and visuals with Legend. The two filmed near Palmdale along an imaginary stretch of railroad.
In some photos shared by Vogue, the two are seen clad in '50s fashions. Wendy is dressed in polka dot chiffon dress while Legend wears a black turtleneck and slacks.
The "All of Me" hitmaker and Wendy's duet will be released as part of SM STATION's Station x 0 collaboration series. The project also features other K-pop artists from different genres team up to release songs together. The Station x 0 series also has Baekhyun and Loco's "YOUNG," Chanyeol and Sehun's "We Young," Taeyeon and MeloMance's "Page 0," and Seulgi, SinB, Chungha, and Soyeon's "Wow Thing." "Written in the Stars" is scheduled to drop digitally on October 19 at 6 p.m. KST.
This is the first time for Legend for work with Korean artist but he has been known for collaborating with other famous artists in the past. The multi-awarded singer sung on Jay-Z's "Encore", Kanye West's "Blame Game," Alicia Keys' "You Don't Know My Name," played piano on Lauryn Hill's "Everything Is Everything," and more.
His single "All of Me," off from his album Love in the Future, peaked at No. 1 on Billboard Hot 100 in May 2014. Legend released his most recent album Darkness and Lighting in 2016.
Canadian-raised singer Wendy, on the other hand, debuted under SM Entertainment in 2014 as a member of K-pop girl band Red Velvet. She had collaborated with other Korean artists before such as Eric Nam.
[#STATIONx0]

존 레전드(John Legend) X 웬디(WENDY) 'Written In The Stars': 2018.10.19. 6PM (KST)#WENDY #웬디 #JohnLegend #존레전드 #WrittenInTheStars pic.twitter.com/GZsRMKVMh4 — Red Velvet (@RVsmtown) October 8, 2018
© 2023 Korea Portal, All rights reserved. Do not reproduce without permission.