'Thirty But Seventeen' Cast Members Get A Little Emotional As The Series Ends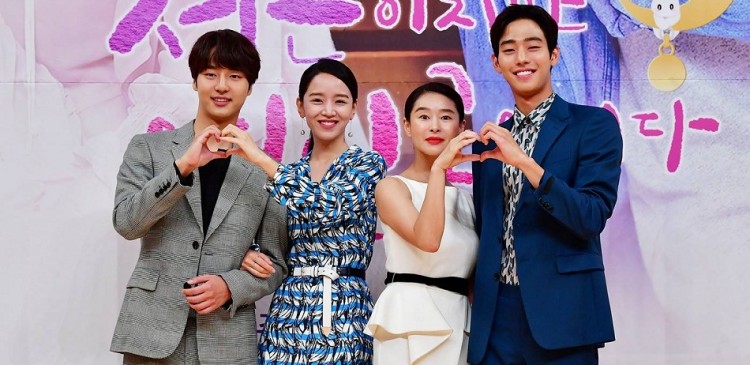 SBS hit K-drama Thirty But Seventeen has come to an end this week and the cast members have been grateful to the fans who follow the series until the end. Some of the cast members shared their thoughts about the show's ending and became a little emotional as they recall their time filming together.
Thirty But Seventeen ended in a positive note. But the cast members of the show can't help but feel a little sad that the show has come to an end.
"I was happy that I met such a beautiful drama. I hope that it gave viewers some healing," lead actress Shin Hye Sun (Woo Seo Ri) said (via Soompi).
"I lived as Gong Woo Jin from late spring to the cool breeze of fall. Now that I suddenly have to say goodbye to him, it doesn't feel real," actor Yang Se Jong said, referring to his character.
Ahn Hyo Seop, on the other hand, shared what he has learned in the show. He said Thirty But Seventeen taught him how to protect the people or things that he values the most. Ahn added that the show also taught him how to accept and overcome defeat.
"Like how Yoo Chan found his own pace, everyone has their own pace, and I believe that there will be a day when that time will be on my side. Remember this when you're feeling tired: 'Don't think, feel!'" he said referring to his character, Yoo Chan, famous saying.
Actress Jung Yoo Jin also starred in the SBS TV series as Woo Jin's close friend Kang Hee Soo. Korean actor Yoon Sun Woo likewise appeared in the show as Kim Hyung Tae, the doctor who has a crush on Seo Ri since middle school. The two stars are also grateful to their fellow cast members, crew, and the viewers who loved the show.
Thirty But Seventeen follows the life of Seo Ri, who still feel she is a 17-year-old girl after waking up from a 13-year coma. She went back to the house she used to live in but it is already owned by someone else. Seo Ri falls in love with the new house owner, set designer Woo Jin, while still struggling to adapt to her new world.
In the end, everyone had a happy ending. Seo Ri becomes a concert violinist and wife to Woo Jin. Chan won gold medals and becomes the No. 1 rower in South Korea while Jennifer (Ye Ji Won) is now a restaurant owner.
Meanwhile, Thirty But Seventeen maintained its double-digit ratings and remained as the No. 1 drama in its time slot until the end. The finale episode recorded the series' highest nationwide viewership rating of 11 percent and 12.5 percent in the metropolitan area, according to Nielsen Korea.
© 2023 Korea Portal, All rights reserved. Do not reproduce without permission.