'Thirty But Seventeen' Episode 27-28 Spoilers: Woo Jin Is Saying Goodbye To Seo Ri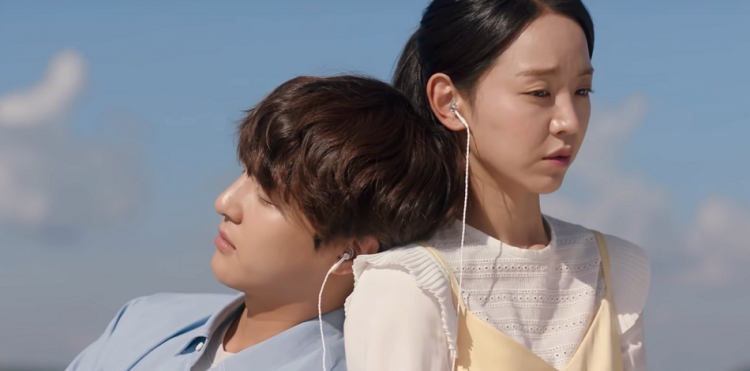 Secrets have been revealed in the recent episodes of Thirty But Seventeen. Seo Ri found out about her best friend's death while Woo Jin finally realized that Seo Ri is the same girl he fell in love with 13 years ago.
After years of blaming himself for what happened to his first love, Woo Jin (Yang Se Jong) has finally felt relieved that Seo Ri (Shin Hye Sun) is the same woman he loved years back and that she is alive. But Woo Jin's problem now is to how to tell it to Seo Ri.
The teaser for Tuesday's episodes of Thirty But Seventeen suggests that Seo Ri will find Woo Jin's painting of her when she was 17. There could be a confrontation between the two about what happened 13 years ago as Woo Jin is seen leaving a letter to Seo Ri. He tells her in the letter that if he only knew who she really is, he wouldn't have fallen in love with her.
Woo Jin is also seen on board a plane. He could be going on a business trip or taking time away from Seo Ri after his revelations. Meanwhile, the mystery man who has been paying Seo Ri's medical bills comes back and it seems like Hyung Tae will finally know who he is.
In the previous episode of Thirty But Seventeen, Seo Ri admitted to Woo Jin that she was in a coma for more than 10 years because of a car crash. However, she told him what she only knew and that is, she is the only one who got seriously injured in the accident and everyone else survived. The truth is Seo Ri is the only one who survived the tragic accident. This is exactly what Seo Ri found out when she and her childhood friend, Kim Hyung Tae (Yoon Sun Woo), have finally meet at the hospital.
Woo Jin sent Chan (Ahn Hyo Seop) to the hospital because of his swollen ankle. The doctor's diagnosis is that Chan needs surgery for his ruptured tendons. Hyung Tae, later on, found Seo Ri at the hospital and told her that her uncle and aunt have been playing her hospital bills but they are already living in another country. He also told Seo Ri that her best friend Su Mi survived the accident but he doesn't know where she is at the present.
Woo Jin confronted Hyung Tae for lying to Seo Ri about her aunt and uncle. Woo Jin knew that Seo Ri's aunt is still in Seoul. In fact, he already found her. Meanwhile, Chan found out that his uncle and Seo Ri are now dating.
Seo Ri eventually discovered that Su Mi is already dead. She and Woo Jin went to a columbarium where Su Mi's urn is placed. When Seo Ri called her friend's name and upon seeing Su Mi's photo, Woo Jin finally realized that the "Su Mi" he knew is actually Seo Ri and the real "Su Mi" died from the accident.
Thirty But Seventeen Episode 27-28 airs on Tuesday at 10 p.m. on SBS. The series finale will be on October 2.
© 2019 Korea Portal, All rights reserved. Do not reproduce without permission.