'Thirty But Seventeen' Episode 21-22 Spoilers: Woo Jin Realizes His First Love Is Still Alive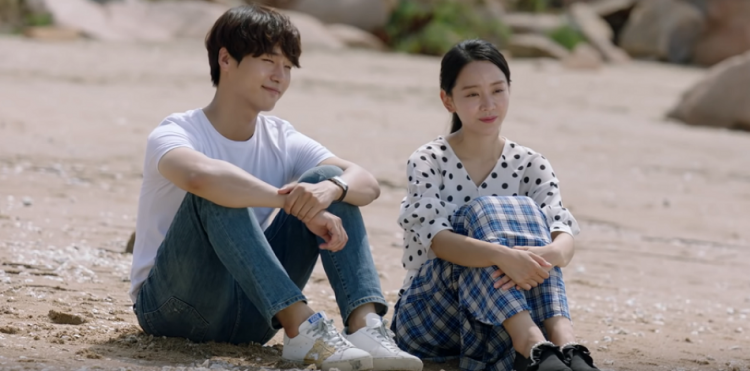 K-drama Thirty But Seventeen will be back on its regular airing starting next week after some airing interruption due to the coverage of 2018 Asian Games. K-drama fans will be treated with more exciting revelations between Woo Jin and Seo Ri in the upcoming episodes of Thirty But Seventeen.
It looks look Woo Jin (Yang Se Jong) finally realizes that the woman who is leaving in their house is actually his first love whom he thought died in an accident 13 years ago. In the previous episodes, Woo Jin went into a state of panic once again when he recalls the similarities between Seo Ri (Shin Hye Sun) and his first love. He remembers his doctor's advice not to compare Seo Ri to the young girl he loved 13 years ago.
But Woo Jin also remembers the incident on the bus before the accident. His first love's best friend called his first love "Seo Ri" and not "No Soo Mi."
Woo Jin and Seo Ri will once again share a special moment when they took a shade at a children's playground when it started to rain. Woo Jin holds her hand and asks Seo Ri if they can stay there a little longer.
The mystery continues on Jennifer's (Ye Ji-won) past before she got employed in the Gong's household. Additionally, fans are also expected that more information will be revealed about the mysterious man who came to visit Seo Ri in the hospital. Many speculate that it could her uncle.
Meanwhile, the upcoming episodes of the SBS hit series are also expected to surpass its viewer ratings this week. Thirty But Seventeen has reached its highest viewership ratings ever this week with Episode 19-20. Its August 28 broadcast achieved 10.8 percent and 12.5 percent ratings amidst changed in airing schedule.
In the previous episodes, the two leading protagonists had an intimate moment and almost shared a kiss. Many fans also got worried about Chan (Ahn Hyo Seop) after he collapsed while having a meal with his rowing teammates. It turned out, he only had an upset stomach due to stress as he trains really hard in the past days to win first place in the national.
Seo Ri finally got her violin back. She also accepted his former mentor's offer to play at the One festival. She declined the offer at first because she feels she is not qualified to perform on stage. But after talking to Woo Jin, he realized that she doesn't need to worry too much and instead do whatever she loves to do.
Thirty But Seventeen Episode 21-22 will air next week. The K-drama airs every Mondays and Tuesday at 10 p.m. KST on SBS.
© 2023 Korea Portal, All rights reserved. Do not reproduce without permission.