'Outlander' Season 4 Spoilers: A Fan-Favorite Character May Return In New Season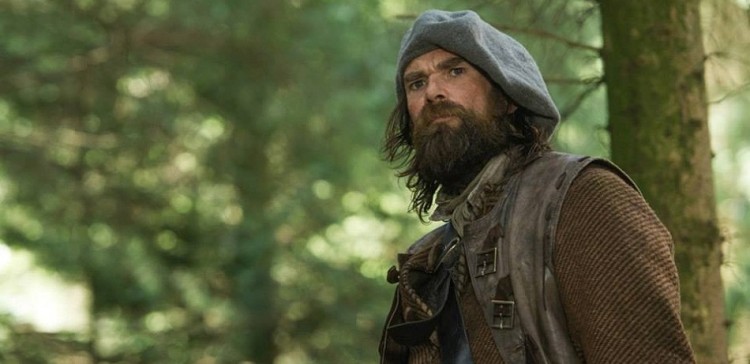 The Outlander clan had missed Murtagh Fitzgibbons for the most part of the previous season. But there is a big chance that this fan-favorite character will return in Outlander Season 4.
Outlander author Diana Gabaldon earlier admitted that there were some plot points in her novel that end up omitted from the final cuts because there was no enough room to tell these stories. But there are also stories that were departures from her book but she is pleased to have in the TV adaptation. That includes Murtagh's (Duncan Lacroix) part in Season 3.
Fans of the time-travel series were relieved when it was revealed that Murtagh managed to survive the Battle of Culloden. In Gabaldon's book, Jamie's (Sam Heughan) godfather was killed in the battlefield.
It can be recalled that in Season 3, Jamie found Murtagh in Ardsmuir Prison. When the prison was closed, Murtagh and the rest of the prisoners were sent to the American colonies as servants. Lord John Grey (David Berry) paroled Jamie to work at an estate called Helwater before finally ending up in Edinburgh. From then on, Murtagh was never mentioned again.
In a previous interview with Gabaldon, she hinted that the big question on what happened to Murtagh will finally be answered in the upcoming season. The author also serves as production consultant in the TV series.
"I know because I've seen most of season four so far. It'll be all right. That's all I can tell you about it. As far as I'm concerned, this character is dead. But the show is the show, and the book is the book, so they have latitude. They can do things, and by and large, I enjoy the novel things that they do," she teased.
When asked whether or not Murtagh will have a significant role in Season 4, Gabaldon explained the challenges Outlander writers are facing in squeezing all storylines in her books to the TV series.
"Toni's [Graphia] particularly good at taking elements from the book and combining them in a novel way and putting these really interesting little bits of bridgework in to make it all fit into a seamless fold, and so it's fascinating to watch. So, in so far as they've done that with Murtagh, like I said, I think it works," she said.
Jamie probably will look for his friend in America and he will find him starting his life in the colonies. One thing is for sure, Murtagh is not yet dead.
Earlier this year, Lacroix was spotted filming scenes with Caitriona Balfe (Claire) in Outlander set in the U.K. By the looks of the leaked photos, Murtagh's hair already turned gray. Additionally, Graham McTavish (Dougal MacKenzie) also shared a snap of him and Lacroix along with their Outlander co-stars Heughan, Balfe, and Sophie Skelton (Brianna). The photo was shared days before Outlander Season 4 wraps up.
© 2023 Korea Portal, All rights reserved. Do not reproduce without permission.