'This Is Us' Season 3 News & Updates: Pearson Family's Makeup & Wardrobe Secrets Revealed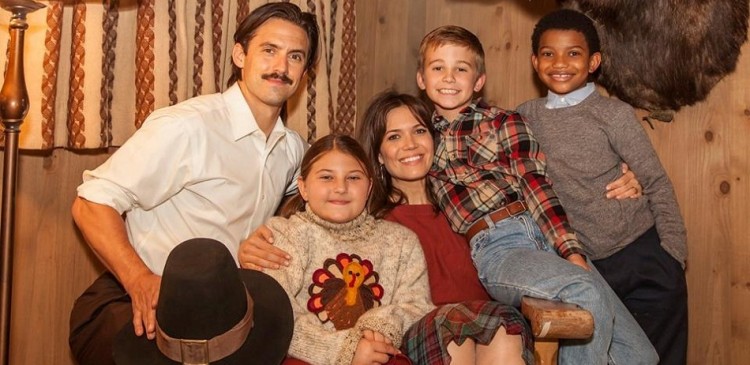 It is still a month-long away before the This Is Us Season 3 premiere. To give viewers are least some things to ponder when Jack, Rebecca, and the Big Three come back in the small screen, makeup department head Zoe Hay and costume designer Hala Bahmet share some of the show's secrets.
In an interview with Entertainment Tonight, Emmy-nominated Hay and Bahmet shared the things they do to keep the appearances of the Pearson family members perfect across different timelines. One of the most interesting details the two shared is how they achieve the older look of Milo Ventimiglia as Jack, Mandy Moore as Rebecca, and Sterling K. Brown as Randall.
It turns out, viewers have to give credit to the actors' parents. Hay revealed her trick in aging up these actors.
"I often ask them if they have pictures of their parents when they were older. Milo is great. He had a picture of his dad, and he brought this in, and we actually use that as a basis to do the sculpture for his old-age makeup, so that's really helpful that we had that," Hay said.
When it comes to wardrobe, they keep every piece of it to make sure that they are ready when they need to shoot a flashback scene. Bahmet said all clothes, shoes, accessories, and others are all in four storage rooms.
"A lot of television shows will return their clothing at the end of a season thinking they'll never need it again. For us, we have to hang on to every piece of clothing because we never know if, in two years, we're going to be featuring another garment or the same garment again," Bahmet said.
As for Mandy Moore's prosthetics, the makeup team is grateful that the singer is the one playing Rebecca. Hay shared that the three and a half hour-session to complete the old Rebecca look becomes less strenuous because of Moore and their 40s music playlist.
"She has to blow dry [the prosthetics] for us. She's switching her position all the time and she's a real trouper. It's a lot. It's a lot to go through that process ... We play some groovy 1940s music, so we have a nice, chill atmosphere," Hay revealed.
She also shared some juicy details about the so-called "beard-gate." Hay said that the Pearson family patriarch almost never had the iconic mustache. She revealed that it was a hard sell to This Is Us bosses at first.
"In the second episode of the first season, it was scripted that Jack was clean-shaven but eight years older, and I said, 'Maybe I should be wearing a mustache.' We shaved half of my face and we get a, 'Wait! Wait! Wait! Wait!' [from production]," Ventimiglia also told ET.
But the damage was already done so Milo Ventimiglia needs to use a fake mustache. The only downside is that the actor can only take small bites of food when he is wearing his fake mustache on set.
© 2023 Korea Portal, All rights reserved. Do not reproduce without permission.