'This Is Us' Season 3 News & Updates: New Photo Of William & A Baby Teases A Possible Twist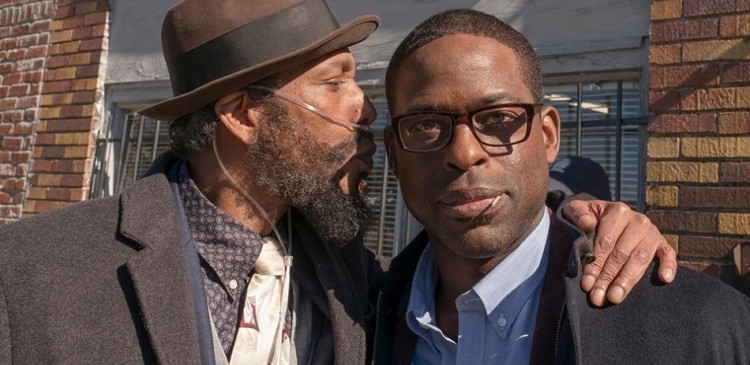 This Is Us fans have known that Randall's biological father, William, will appear in the upcoming season. But it wasn't clear how until This Is Us creator Dan Fogelman shared a hint about it.
The series' showrunners have said in the past that Season 3 will explore Jack Pearson's (Milo Ventimiglia) time in Vietnam, his relationship with his brother Nicky, and his early romance with Rebecca (Mandy Moore). The third installment will also dig deeper into Rebecca and Miguel's (Jon Huertas) story as well as Beth (Susan Kelechi Watson) and Toby's (Chris Sullivan) backstories. But now, it looks like it will also feature a lot more about William (Ron Cephas Jones).
Fogelman posted on Twitter a picture of William and a baby, presumably young Randall (Sterling K. Brown). The photo is a screenshot from an upcoming episode of the NBC drama's Season 3 based on Fogelman's caption.
"Season 3. Brace yourselves," Fogelman wrote.
In the snap, Williams looks younger while holding a baby in his arms. It quickly sparked speculations on what could it mean since the photo shows a healthy William and baby Randall if he is indeed Jack and Rebecca's No. 3.
Clearly, it was younger William but not the version that was portrayed by actor Jermel Nakia. The scene, in which the photo was taken, could be a flashback but not in the 70s when Randall was born. Probably in much later years, perhaps when Randall's first daughter was born.
Fans shared their theories about the photo. One of which stated that Rebecca could have babysitting Tess and she invited William to see her. If that is baby Tess, Rebecca should have told it to her son and Beth when Randall found out about his real father.
Randall was deeply hurt when he confronted his father who abandoned him. But he was more devastated when he found out that Rebecca kept a secret from him and that she intentionally prevents William from seeing his son.
This led others to speculate whether or not the photo has a connection to older Randall's cliffhanger scene in Season 2 finale. It can be recalled that in a flash-forward scene between Randall and grownup Tess, the two are talking about a mysterious woman that they are both not ready to see at the moment. Could it be Rebecca?
Another theory about the newly-shared image is that Randall could have a biological sibling that William did not tell him about. But other fans also argued that Randall should have met him or her when he traveled to Memphis with William. Whatever the photo means, viewers will surely need boxes of Kleenex when they watch this scene. The 18-episode third season will kick off with the Big Three's 38th birthday. This Is Us Season 3 will premiere on September 25 at 9 p.m. ET on NBC.
Season 3. Brace yourselves. #ThisIsUs pic.twitter.com/5Yx5j29eUV — Dan Fogelman (@Dan_Fogelman) August 17, 2018
© 2023 Korea Portal, All rights reserved. Do not reproduce without permission.