'Supernatural' Season 14 News & Update: Showrunner Confirms Sam And Dean Not Crossing Path With The Green Arrow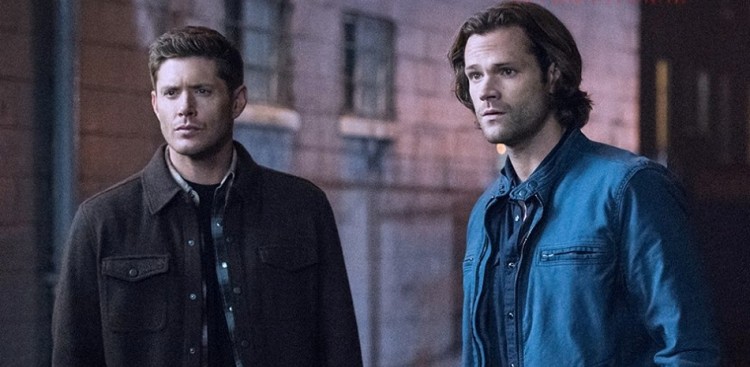 Sam and Dean Winchester have been in different time and dimension, so did Oliver Queen. Supernatural showrunner Andrew Dabb, however, doesn't think a crossover between his show and Arrow is possible but he still plans to treat fans with another crossover in the future.
The previous season of Supernatural featured an animated crossover episode with Scooby-Doo. Everybody loves the "Scoobynatural" episode. It is the second highest rated episode of Season 13.
Since its airing, many are anticipating another crossover in Supernatural Season 14, possibly with fellow CW series Arrow. The series lead star Stephen Amell himself had previously expressed interest to work with Jensen Ackles (Dean) and Jared Padalecki (Sam). However, Dabb already ruled it out, saying it wouldn't work.
"The Scooby-Doo thing was very special for us and worked in a lot of ways. [But] the number of shows that can realistically crossover with Supernatural is very low. Mixing genres in crossovers don't work that well, so, like, a crossover with Arrow is not going to work out for us," he told the press during the show's Television Critics Association presentation recently.
Although Andrew Dabb already ruled out a Supernatural-Arrow crossover, the show is still up for another one. Supernatural actor Misha Collins (Castiel) revealed that Dabb is planning another crossover episode. He, however, did not mention if this is happening in Season 14 which is set to premiere on October 11.
"I do know that Andrew has been trying to figure out another crossover. But it's very challenging because getting all of the powers-that-be to agree to the rights for that kind of thing takes a certain special elixir to make it happen," Collins said. By the sound of it, Dabb is thinking of a huge crossover.
The CW has been doing crossovers for all of its DC series namely Arrow, The Flash, Supergirl, and Legends of Tomorrow. If Arrow is off the table right now, it may not work as well for the rest of the series in the Arrowverse. So maybe Dabb is thinking about doing a crossover with other CW shows. Could it be a Supernatural-Riverdale crossover?
Perhaps Archie will seek Sam and Dean's expertise when Riverdale encounter a problem with a supernatural being. Filming for the actors of both shows would be a problem since Supernatural and Riverdale are shooting in Vancouver, Canada. Additionally, both shows are in the same Warner Bros Television family.
It could also be a Supernatural-The Charmed Reboot crossover. Or probably Dabb is thinking about granting his stars wish to have a crossover with The Walking Dead. In the past TV conventions, Supernatural actors have always said they would like to be in the AMC's post-apocalyptic series. If this happens, it will be a reunion between Ackles and Padalecki and their onscreen dad Jeffrey Dean Morgan, who played the role of John Winchester in the early seasons of Supernatural.
© 2019 Korea Portal, All rights reserved. Do not reproduce without permission.