'Arrow' Season 7 Spoilers: Quentin Lance May Still Be Alive + Who's Coming Back In Star City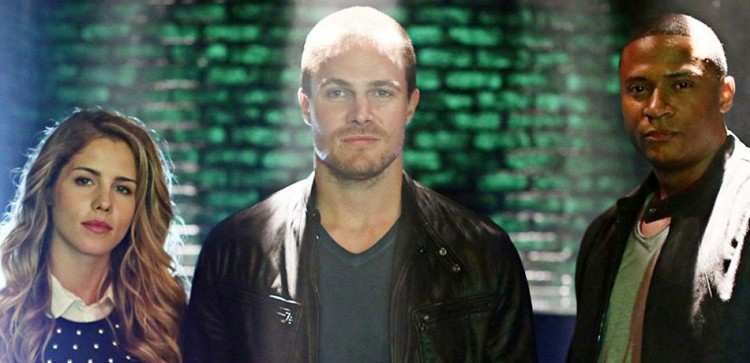 Black Siren is getting her revenge. In the upcoming Arrow Season 7, Laurel Lance's doppelganger will definitely avenge the death of Quentin Lance.
Although Black Siren (Katie Cassidy) is not Quentin's (Paul Blackthorne) daughter, the two developed a close bond last season after he took care of her when she got wounded during a fight with the Black Canary (Juliana Harkavy). In Season 6 finale, the Star City's deputy mayor was shot by Ricardo Diaz (Kirk Acevedo) and eventually died.
Incoming Arrow showrunner Beth Schwartz has teased that fans should expect that Black Siren will retaliate for what happened to Quentin. However, Cassidy hinted that it may not be entirely over for the character.
"So, he's gone, but I mean...is he really gone? It's sad, it really is. It makes me sad because we all worked so hard for so long. It just kinda sucks when it's like...He's an OG. He was there from day one, I was there from day one, with Stephen [Amell], David [Ramsey], and Willa [Holland]... Let's hope that there's a way to work him back in," Cassidy teased.
It will not be surprising seeing Quentin back from the dead in the upcoming season. Arrow fans have seen the same scenario in the past. Both Thea Queen (Willa Holland) and Sara Lance (Caity Lotz) were resurrected through Ra's al Ghul's Lazarus Pit.
Arrow will be back on October 15 with Season 7 premiere episode "Inmate 4587." Obviously, it is in reference to former Mayor Oliver Queen (Stephen Amell) who resigned from his post, arrested by the FBI, and later on, admitted that he is the Green Arrow. It would be interesting to see how will Oliver deal with prison life in Season 7.
The official synopsis for Arrow Season 7 (via ComicBook) revealed Oliver will face many of the criminals he sent to prison. The CW also released a teaser trailer during the recent San Diego Comic-Con that shows prison fights and Oliver in bruises.
Meanwhile, Sydelle Noel will come back next season as FBI Agent Samanda Watson while Colton Haynes will reprise his character Roy Harper, a.k.a. Arsenal. The actor remains mum about the circumstances that will lead to Roy's return to his old team. He, however, teased that it will surprise Arrow fans and the show will be backed to how they were in the previous seasons.
"You guys have no idea what's happening with Roy Harper. It's a crazy storyline, I can say. It's nothing like he's been before. It's going to shock [so many people]. I'm shocked right now," Haynes told ComicBook.
There were fan theories that team Arrow may ask for Roy's help following Oliver's admission of being the Green Arrow. Violence might escalate in Star City once Ollie was thrown in jail. John Diggle (Ramsey), Felicity Smoak (Emily Bett Rickards), and the rest of the team probably need some extra hands to keep the city safe.
© 2023 Korea Portal, All rights reserved. Do not reproduce without permission.