'NCIS: Los Angeles' Season 10 Updates: Deeks' Fate Looks Grim, Hetty's Team Is Trapped In Mexico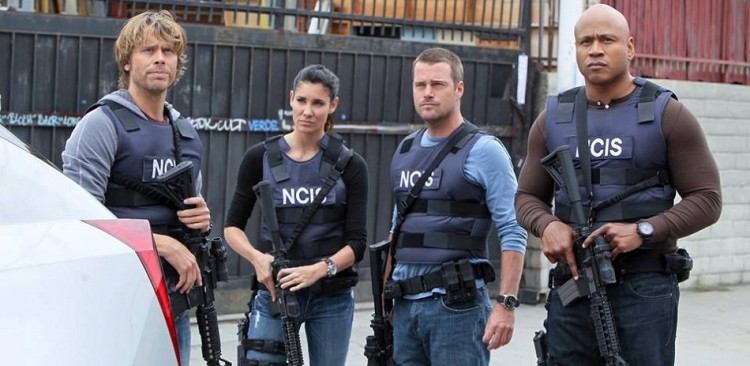 It's like the Syria tragic mission all over again in NCIS: Los Angeles Season 10. But this time, it is not Kensi who is clinging to her life. It is her fiancé, Deeks.
It can be recalled that in Season 8, Kensi badly injured when the team's mission in Syria goes sideways. It took months for her to recover and return to her team. Now, it looks like the same thing might happen to Deeks based on a photo shared by TVLine.
The image features both Kensi (Daniela Ruah) and Deeks (Eric Christian Olsen). The former is alive and on her feet but also injured. Deeks, on the other hand, seems to have severe wounds as he is seen being carried out of what looks to be members of the Mexican cartel.
In Season 9 finale, the NCIS LA team went on a mission in Mexico to rescue Mosley's (Nia Long) son. Deeks was not supposed to be in the flight to Mexico since Mosley already fired him. However, he decided that he is not letting Kensi go on a dangerous mission without her partner.
The team was able to save Mosley's son, but on their way out of the country, a missile blows up their SUV. The front seat of the vehicle is badly hit. Kensi is the one driving the SUV while Deeks is at her passenger side. Agents G. Callen (Chris O'Donnell) and Sam Hanna (LL Cool J) are sitting at the back. The agents are apparently in a dire situation as Hetty (Linda Hunt), and the rest of the squad back in LA looks worried about them.
To make things worst for Callen's team, the official synopsis of the Season 10 premiere, titled "To Live and Die in Mexico," stated that the Mexican cartel already declared a "dead or alive" manhunt on them. The only good news is that all four agents are still alive but only injured and can't communicate with their team in the U.S. It also suggests that Sam, Callen, and Kensi will try to find ways on how to escape the bad guys.
NCIS: Los Angeles fans earlier expressed concern that Eric Christian Olsen might not come back in Season 10. There were also speculations that if Deeks survive in Mexico, he will still quit NCIS and LAPD.
Deeks told Kensi in Season 9 finale that he wants Mexico to be their last mission before they quit their jobs. However, Kensi disagrees and admits to Deeks that she is not yet ready to turn her badge in. Deeks also previously told Callen that he is seriously considering buying an abandoned bar to start a less dangerous job for his future family. All of these imply that Deeks has long decided that he is done chasing criminals.
Will Deeks survive his injuries? If so, will he leave his job even if it will cost his relationship to Kensi? Everything will be answered when NCIS: Los Angeles returns next month.
NCIS: Los Angeles Season 10 is set to premiere on September 30 at 9:30/8:30c on CBS. It will later return to its regular timeslot of 9/8c on Sundays.
© 2019 Korea Portal, All rights reserved. Do not reproduce without permission.