BIGBANG's G-Dragon, T.O.P, Taeyang & Daesung Support Seungri's First Solo Tour In The Sweetest Way Possible [WATCH]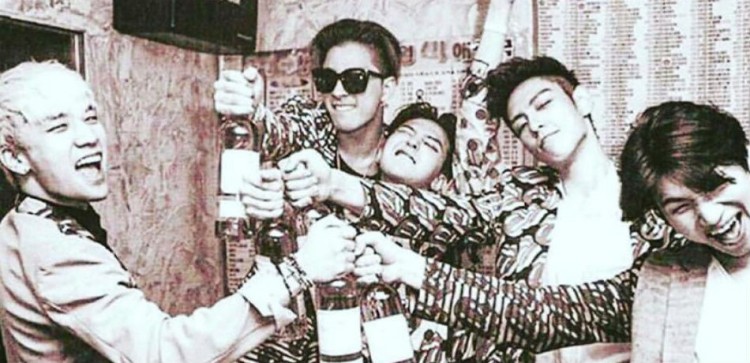 Seungri had finally kickstarted his first solo tour in South Korea, and his hyungs (older brothers), G-Dragon, T.O.P, Taeyang, and Daesung made sure that their beloved maknae (youngest member) would know how much they are proud of him. Although the BIGBANG stars have been doing solo activities outside the group in the past, this was the first time that the older boys weren't able to physically support Seungri as they are all currently completing their mandatory military service.
But just because G-Dragon, T.O.P, Taeyang, and Daesung couldn't make it to the venue, doesn't mean that they have forgotten Seungri's historical event in his career. In fact, the BIGBANG boys knew exactly what to do to make up for their absence.
G-Dragon, T.O.P, Taeyang, and Daesung sent Seungri a beautiful flower wreath with their own personal and hilarious messages. Seungri may already be 27 years old and is the new CEO of YG Entertainment's subsidiary company YGX; the older BIGBANG boys always see him as their baby brother that they love to pick on.
The messages on their wreaths read: "Private Dong Youngbae (Taeyang) I'd like to congratulate Lee Seunghyun (Seungri) on his first solo concert!" "Private Kwon Jiyong (G-Dragon) I have nothing to say." "Private Kang Daesung I'll count to three, so you come here! Let's win!" and "T O P Our proud maknae! Even if you don't count to three…"
Joking aside, BIGBANG is always known for supporting each other. Just as long as their schedule permits them, they would always go out of their way to make each member know how much they are proud of them.
Unfortunately for Seungri, he is the last member of BIGBANG to be enlisting, so the rest of the boys are already doing their compulsory duties. However, fan clubs of the G-Dragon, T.O.P, Taeyang, and Daesung decided to attend the concert on behalf of their favorite members.
It would take a couple more years to see G-Dragon, T.O.P, Taeyang, Daesung, and Seungri together in one stage again, but fans have been assuring the boys that they are willing to wait for them. Surely no one misses BIGBANG more than their maknae himself as he shared clips of himself with his hyungs during his concert.
hwangssabu_official instastory update of Bigbang's flower wreath to Seungri!

His hyungs are gave an individual wreath to him pic.twitter.com/zOg5sASSiA — B-BANG (@xB_Bang) August 5, 2018
© 2023 Korea Portal, All rights reserved. Do not reproduce without permission.