BIGBANG Seungri Throws G-Dragon, T.O.P, Taeyang, & Daesung Under The Bus With Shocking Revelation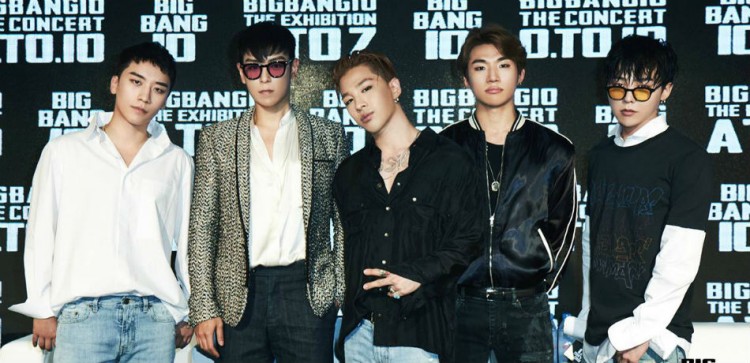 BIGBANG is arguably one of the most successful groups in the K-pop world, which is why they are dubbed as the "Kings of K-pop." Fans adore their songs and brotherhood, but Seungri seemingly threw his members G-Dragon, T.O.P, Taeyang, and Daesung under the bus with his shocking revelation in a recent interview.
The 27-year-old South Korean singer, songwriter, record producer, actor, and entrepreneur was a guest star on June 4 broadcast of KBS Cool FM's Volume Up. While promoting his solo activities, Seungri revealed that he would want to do a really good job for the fans and also for G-Dragon, T.O.P, Taeyang, and Daesung.
"I want to work hard so our fans won't feel the absence of the hyungs," Seungri said. "Also, if I don't do well, the hyungs will say, 'See, he can't do anything without us.' "
Being the maknae (youngest member) of the group, G-Dragon, T.O.P, Taeyang, and Daesung always treated Seungri as their baby brother even though he has now added CEO of YG Entertainment's subsidiary company YGX under his belt. And since Seungri has a lot of respect for the other BIGBANG members, he wanted them to be proud of him while they were away completing their mandatory military services.
When asked about BIGBANG's teamwork, however, Seungri revealed that they don't have the best flow. He then recalled one particular incident when Taeyang forgot his placement.
"To be honest, Big Bang doesn't have that great of teamwork, but it's amazing how only the Big Bang members know that," Seungri shared. "Sometimes during our performances, Taeyang hyung gets out of his set location when he gets excited. We just pretend like it was all planned."
Although Seungri's revelation sounded like he ratted out his members, full-fledged VIPs (BIGBANG fans) already knew this fact. G-Dragon, T.O.P, Taeyang, Daesung, and Seungri are known for doing their own thing during concerts or events. The YG Entertainment superstars don't follow what is expected from a K-pop band and they don't even dress alike during award shows.
As for Seungri revealing their "secret," that is nothing new as well. The BIGBANG singer is known for sharing everything about the boys that sometimes make the older members nervous. But this trait of Seungri is something that G-Dragon, T.O.P, Taeyang, and Daesung are already used to, so they probably expected that he would be sharing more secrets with fans while they were away.
© 2023 Korea Portal, All rights reserved. Do not reproduce without permission.