'What's Wrong With Secretary Kim' Actor Park Seo Joon Leads August K-Drama Brand Reputation Ranking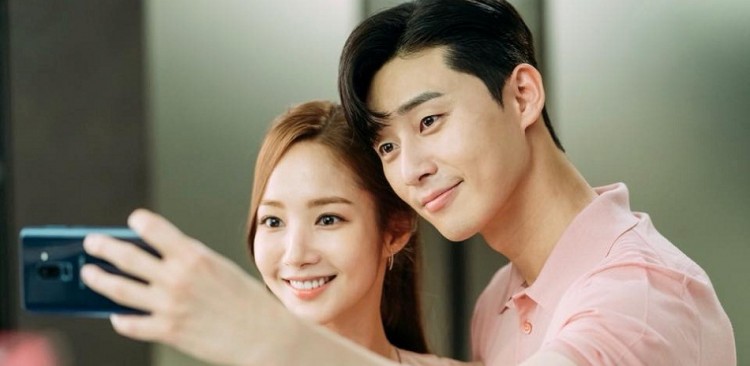 What's Wrong With Secretary Kim stars dominate the August brand reputation ranking for K-drama actors. Lead actors Park Seo Joon and Park Min Young are on top stops, thanks to their hit tvN series.
The Korean Business Research Institute has revealed this month's K-drama brand reputation ranking. Park Seo Joon secured the No. 1 spot while his on-screen partner Park Min Young is at second place.
Park Seo Joon reached the top spot of the ranking after garnering an impressive brand reputation index of 24,097,237. Park Min Young, on the other hand, scored an index of 18,161,817.
The ranking was determined through the analysis of data that include the media coverage on 100 K-drama actors who appeared in TV series that were aired between July 3 and August 4. The participation, interaction, and community indexes of the stars were also analyzed.
Park Seo Joon was in the second place in July K-drama actors brand reputation ranking, behind Ji Chang Wook of Suspicious Partner. This month's positivity-negativity analysis of Park Seo JHoon scored at 64.11 percent positive reactions. The high-ranking phrases in the actor's keyword analysis include "What's Wrong with Secretary Kim," "Park Min Young," and "dating."
The intense chemistry between the show's lead characters, Lee Young Joon (Park Seo Joon) and Kim Mi So (Park Min Young), has sparked dating rumors. However, both K-drama stars already denied the speculations that they are dating.
"I can't accept that you can call it a dating scandal just by some evidence anyone can make up, and adding rumors to it... My final verdict on the dating rumors? I don't date him. I don't date him, and I'm not marrying him," Park Min Young said at her recent cafe interview.
What's Wrong With Secretary Kim had dominated its Wednesdays and Thursdays timeslot since it premiered in early June. It aired its final episode on July 26. It featured the wedding of Young Joon to his devoted secretary, Kim Mi So. The last episode scored an average viewership rating of 8.6 percent.
Meanwhile, completing the top five actors in August brand reputation ranking are Mr. Sunshine stars Kim Tae and Lee Byung Hun in third and fifth places, respectively. Gangnam Beauty actor and ASTRO member Cha Eun Woo secured the No. 4 spot. Goblin and Life actor Lee Dong Wook is also in the top 10 along with Im Soo Hyang, Cho Seung Woo, Kim Min Jung, and Kim Jung Hyun.
© 2019 Korea Portal, All rights reserved. Do not reproduce without permission.