K-Drama Alert: 'Life', '30 But 17', 'Witch's Love' & 6 New Dramas To Premiere This July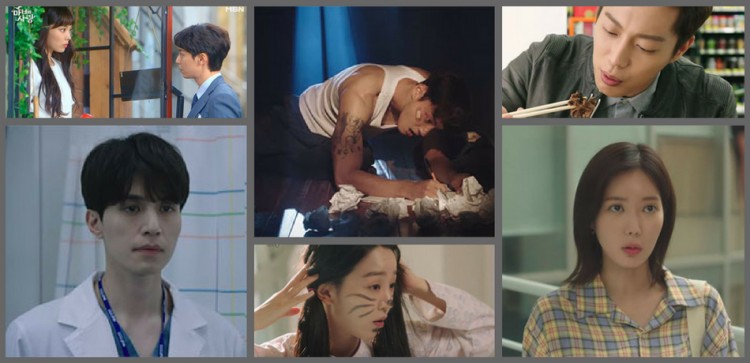 Good news for K-drama fans who are looking for interesting new series to watch! The remaining weeks of July will introduce nine new dramas that will delight viewers such as Lee Dong Wook's medical series Life, Shin Hye Sun's 30 But 17, Yoon So Hee's fantasy romance series Witch's Love and more.
Here is a list of primetime evening dramas that are scheduled to premiere in the coming weeks.
Let Me Introduce Her
The upcoming SBS weekend drama Let Me Introduce Her tells the story of Eun Han, a woman who underwent facial reconstructive surgery but lost her memories as a side-effect of the said procedure. Plastic surgeon Han Kang Woo ended up helping Eun Han to adjust to her new life as she tries to recover her memories.
Wonderful Life actor Kim Jae Won portrays the role of Kang Woo, while Good Manager actress Nam Sang Mi portrays Eun Han. Let Me Introduce Her will premiere on July 14 on SBS.
Life or Death Romance
Life or Death Romance is a romantic comedy-drama that tells the story of an endocrinologist who has chosen a feisty and competitive neurosurgeon for a special medical study. Queen In Hyun's Man actor Ji Hyun Woo will portray the role of neurosurgeon Han Seung Joo, while Lookout actress Lee Si Young portrays the hormone-obsessed endocrinologist Joo In A.
Viewers can expect to see funny moments between the lead characters as they traverse the various challenges in their medical careers and personal lives. Life of Death Romance, also known as Risky Romance, will premiere on July 23 on MBC.
Thirty But Seventeen
Thirty But Seventeen, also stylized as 30 But 17, is a romantic comedy-drama about a 30-year-old woman who has a mental age of a 17-year-old girl. My Golden Life actress Shin Hye Sun portrays the lead female character Seo Woo Ri, who woke up from a 13-year long coma after an accident that happened while she was still a teenager.
30 But 17 will replace the Monday-Tuesday primetime series Wok of Love which will air its final episode on July 17. Shin Hye Sun's upcoming drama will premiere on July 23 on KBS.
Life
Lee Dong Wook will soon delight avid fans in the upcoming medical drama Life. Shedding his Grim Reaper persona from Goblin, the actor will portray the character Ye Jin Woo who is an emergency room doctor at a university hospital. Dedicated to saving the lives of his patient, Ye Jin Woo will find himself in the middle of a power struggle with the hospital's chief director who is more concerned about profit rather than helping people.
Life will premiere on July 23 on JTBC. The drama will release new episodes every Monday and Tuesday.
Let's Eat 3
Highlight's Yoon Doojoon returns to the small screen with the drama Let's Eat 3. Reprising his role as Goo Dae Young, the expert foodie will find himself in a slump which will push him to embark on a journey to revisit his favorite restaurants.
Let's Eat 3 will make its way to small screens on July 16. The drama will replace the romantic series About Time that aired its final episode on July 10.
Witch's Love
Ruler: Master of the Mask actress Yoon So Hee will soon make her drama comeback in the fantasy romantic comedy Witch's Love. The actress portrays the character Kang Cho Hong, one of the three modern-day witches who runs a Korean restaurant. Kang Cho Hong ends up meeting their rich landlord Ma Sung Tae (Hyun Woo), whose life became intertwined with the said witch and her coven sisters.
Witch's Love will premiere on July 25. The drama will air every Wednesday and Thursday on MBN.
Time
The melodrama Time tells the story of a dying young man who is trying to help a woman whose life he ruined. Jealousy Incarnate actor Kim Jung Hyun stars as Soo Ho, the CEO of a restaurant who has limited time left to live. He decides to help Ji Hyun (Girls Generation's Seohyun) whose life changed when her younger sibling suddenly died.
Time will replace the suspense melodrama Come and Hug Me. The said new series would premiere on July 25.
Your Honor
Your Honor, also known as Dear Judge, tells the story of twin brothers whose careers and lives are opposite of the other. Yoon Shi Yoo portrays dual roles in the drama namely Soo Ho and Kang Ho, a judge and a criminal, respectively. The twin's respective lives changed when Soo Ho disappeared, and Kang Ho assumed his brother's role as a judge.
Yoon Shi Yoo's upcoming legal and crime drama Your Honor will premiere on July 25. New episodes will be released every Wednesday and Thursday on SBS.
My ID is Gangnam Beauty
My ID is Gangnam Beauty will show Kang Mi Rae journey as she starts college with a prettier face. Portrayed by Five Enough actress Im Soo Hyang, the said character opted to undergo plastic surgery after being taunted about her looks when she was still a child. However, she discovers that having a new face might not be enough to change her life and how other people will treat her.
The JTBC drama My ID is Gangnam Beauty will air its first episode on July 27. The drama will replace the Friday-Saturday series Sketch.
© 2023 Korea Portal, All rights reserved. Do not reproduce without permission.