Lee Kwang Soo Admits To Being A Mess Following 'Running Man' Controversy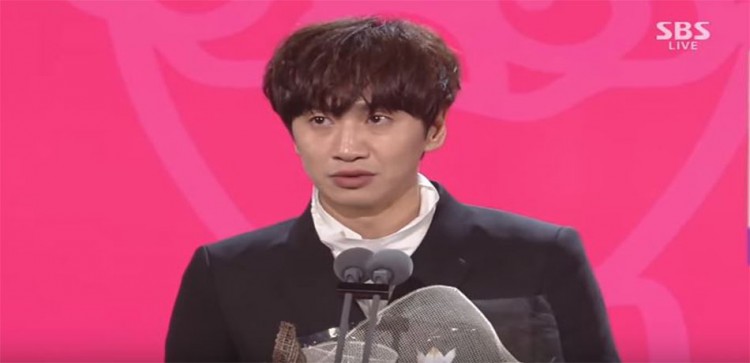 Lee Kwang Soo endured many challenges that tested his courage and determination in the SBS long-running variety show Running Man. Amidst the show's recent controversies, the actor suffered an embarrassing moment as he completed one of U.K.'s high-thrill rides.
Running Man Episode 540 featured the show's cast members and special guests completing their respective group tours in London and Switzerland. With Yoo Jae Suk, Lee Da Hee and Lee Kwang Soo tasked to complete a scary wing walking challenge, the trio displayed various reactions while strapped atop a flying plane. Yoo Jae Suk and Lee Da Hee were able to retain some of their composure after their respective flights finished, except for Lee Kwang Soo who had had a messy ride.
Aired on July 8, Lee Kwang Soo finished the wing walking experience with brown-colored liquid dribbling on the sides of his mouth. The said liquid is the medicine that the Running Man star took to calm his nerves just before his plane began its thrilling flight. Given the intense wind that buffeted the actor's face while strapped on the wing of a flying plane, the medicine leaked out of his mouth with droplets landing on his face, neck, and clothes.
Embarrassed over the situation, Lee Kwang Soo admitted that he was terrified during the wing walking challenge. The Running Man star even joked that his mouth was just one of the areas on his face that became messy since he also felt the brown-colored medicine leaking out of his eyes.
Meanwhile, the extreme challenges that Yoo Jae Suk, Lee Da Hee, and Lee Kwang Soo endured in Running Man Episode 540 sparked a deluge of criticisms from viewers. Despite several fans expressing their enjoyment at seeing the said celebrities' wing walking challenge, some viewers commented that the thrill ride was too extreme for cast members.
However, Running Man producing director (PD) Jung Chul Min explained that he received the cast members' agreement in giving severe punishments in the show. The said PD made the revelation during a recent interview with OSEN where he shared that the production staff all tried out the wing walking challenge before cast members even went on the tour. After highlighting the importance of ensuring the celebrities' safety, the PD added that the said thrill ride was a popular leisure sport in the U.K.
Apart from the negative feedback over the extreme challenges that Running Man cast members had to endure, the show also received a red flag notice from the Korea Communications Standards Commission. The TV broadcast regulatory body issued an official warning given Lee Kwang Soo's inappropriate comments where he jokingly called AOA's Hyejeong a gold digger or "ggot-bam" in a previous episode.
© 2023 Korea Portal, All rights reserved. Do not reproduce without permission.