'Running Man' Gets Red Flag For Lee Kwang Soo's Inappropriate Comments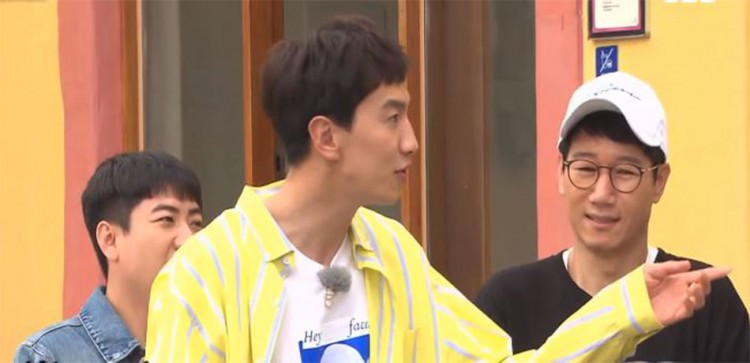 A previous Running Man episode that featured a funny confrontation between Lee Kwang Soo and AOA's Hyejeong caught the attention of TV broadcast regulators. Given the Entourage actor's choice of words, the Korea Communications Standards Commission flagged the SBS variety show for inappropriate content.
Some of the Running Man cast members have been known to exhibit violent reactions as part of the characters they play in the SBS variety show. Kim Jong Kook, Yoo Jae Suk, Haha and Lee Kwang Soo have engaged in onscreen arguments that would sometimes end up in a physical tussle.
Song Ji Hyo even has a "bad Ji Hyo" persona where she would beat up Lee Kwang Soo or let out a string of curse words when faced with a frustrating situation. Several celebrities and K-pop idols who appeared on the show also received the same treatment from cast members or fellow guest stars.
However, Running Man Episode 533 sparked a debate among viewers for Lee Kwang Soo's rude comments. Aired in late May, the episode featured a scene where the said actor jokingly called AOA's Hyejeong a vixen and a gold digger or "ggot-bam." Considered offending in South Korea, the word refers to a girl who would purposely deceive men.
Several netizens found the Live star's comment rude and inappropriate for a rated 12+ show. Given how young students might also be watching the variety series, critics commented that cast members and guests should refrain from using vulgar words. Meanwhile, avid fans defended the actor and highlighted how Lee Kwang Soo was only playing his role as a devious and rude conman in Running Man.
Shortly after the episode was aired, the Korea Communications Standards Commission conducted an official review of the said Running Man episode. Recently, the regulatory body issued a warning to the SBS variety show for use of several vulgar words such as "retard," "shut up" and "ggot-bam." In an official report released on July 5, the commission announced that "a content with the potential of harming gender equality cannot be aired, even on a variety show."
At this time, SBS has yet to release an announcement to address the results of the Korea Communications Standards Commission's review. Lee Kwang Soo and fellow Running Man cast members have also remained silent about the commission's findings.
© 2023 Korea Portal, All rights reserved. Do not reproduce without permission.